Remember when suitcases didn't have wheels? Now, nearly every piece of luggage or large carry-on bag has wheels so we don't break our backs when traveling. Well, soon enough, we'll be saying, "Remember when we had to physically walk to each window treatment in our house and adjust them with our hands? Oh, the time and energy we wasted!" It's true. Home Automation is becoming increasingly popular, and one day the time will come when very few shades in our homes are NOT motorized. In this blog post, I'm going to offer you a brief introduction to motorized shades and blinds, and why this feature should be considered when home remodeling in Barrington IL or anywhere in the Chicagoland area.
The first question you're asking yourself is, "Why do I need motorized shades if I'm perfectly capable of walking and manually adjusting my window treatments?" Well, do you like to save money? (Let's universally answer this question together with a resounding: "yes.") Do you like to be safe around kids and pets? Do you pride yourself on being efficient? Then you qualify for motorized shades.
The top five reasons people choose motorized shades over manual window treatments when home remodeling in Barrington IL and all around Chicago are:
Operating ease and convenience: Though you may be in good shape now, any one of us could develop a health issue that prevents us from quick and nimble mobility as we age (ex: arthritis or becoming wheelchair-bound). If one of your goals is to remain independent, you need motorized window treatments, especially for high(er) or difficult windows to reach.
2. Child and Pet Safety: With motorization, all cords are eliminated, which removes the peril of strangulation or injury. Children aged 16-36 months are especially prone to this danger, according to an article in U.S. News & World Report.
3. Lower Heating and AC Bills ? and Being Green: If your home has a large bank of windows, oversized windows or any windows facing east, west or south, you are probably paying too much for your utility bills due to too much sunlight (or not enough sunlight) entering your home at the wrong time of day. A timer or sun sensor would automatically open and close window treatments at a time you specify, thus reducing your energy consumption. It is also a great idea to make sure your heater and AC is in top condition to ensure maximum efficiency. My friend recommended fresno heating repair to keep my equipment in top shape.
4. Home Safety: Just as I stated above, even while you're out, your home will have the appearance of being occupied when you set timers on your shades and blinds.
5. Integration of Home Automation Applications: If you travel a lot or have an active family, you will want to monitor your home from anywhere in the world if you are not already doing so. The motorized shade technicians we work with will fully integrate your window treatment control seamlessly with your existing home automation system. In addition, you can program scenes. If you are not familiar with this term, it is basically a command. For example: If you have a home theater in a room with windows, you can have a command called "watch movie" and all shades will be programmed to close. In a master suite, you may have a command called "bed time", which will shut all blinds when desired. This type of functionality is obviously more useful as the quantity of shades increases.
THE BASICS YOU SHOULD BE FAMILIAR WITH WHEN IT COMES TO MOTORIZED WINDOW TREATMENTS:
There are basically two choices for powering your motorized shades: Battery-powered and In-wall (hard-wired).
1. Battery-Powered Window Treatments
Points to Consider:
It is possible to install battery-powered shades throughout an entire home, but this is more common for a retrofit or an entry-level motorized shade package.
Batteries continue to last longer and motors tend to be more efficient; this reduces the need to change batteries.
Battery-powered and hard-wired shades can be used together, depending on your needs.
Battery-operated window treatments are the most commonly sold products because of their convenience and affordability. However, the battery often lasts for only two years, but can be extended with solar kits, double-wand options or new larger "C" satellite battery wands (availability varies by manufacturer). The downfall to battery power is that they will not consistently lift from one shade to another. Also, as batteries lose power, shade speed will vary and slow.
2. In-wall (Hard-wired) Window Treatments
In-wall wiring/hard-wiring can be used in both new and existing homes, though it is ideal for new construction when the walls are open with easy access to electrical. In-wall wired/hard-wired window treatments will last longer over time and do not require a change-out of power, like batteries. The downfall to hard-wiring is that it takes longer to install, and has an initial higher cost than battery-operated treatments.
Controlling your window treatments
Hand-held remote, wall switch, wall timer, sun sensor, smart phone or a home automation system are all sources of window treatment control. Motorized shades offer a wide variety of technology in today's modern age. The hand-held remote and wall switch are still the preferred method. A hand-held is used in a room for control, and then a master wall switch near the entrance is used to control multiple rooms upon entering and leaving.
Adding timers and sensors will aid in controlling heat gain and loss by blocking the sun or allowing it in during winter months. Use timers for vacations and daily settings. Again, motorized window treatments may also be managed through a gateway or home automation system.
How do you

communicate

with the shades? There are three ways: infrared, radio frequency and home automation. All methods are NOT created equal!
Rating for IR: Good
IR (infrared) point-and-press: Operates from 0-20 feet away and does not go through anything (line of sight).
Included as the most basic option and will be offered at the lowest price point
Not a good option for integration
Good option for basic battery-powered motors
Rating for RF: Better
RF (radio frequency): Operates anywhere in the room (omni-directional with out-of-sight control) with a larger range 0-50 feet and works through water, fabric, wood, cement, metal, etc.
May have conflicts with other wireless devices
Good option for basic battery-powered motors
Rating for Home Automation: Best
RS232 or RS485 (home automation):Operates from anywhere in the house or anywhere in the world via the Internet; provides absolute and immediate (uninterrupted) control.

Rock-solid speed and reliability
Great method for more expansive home automation systems
Open system that allows for limitless flexibility
Requires a low-voltage wire from the area where the home automation equipment is located
Integration with home automation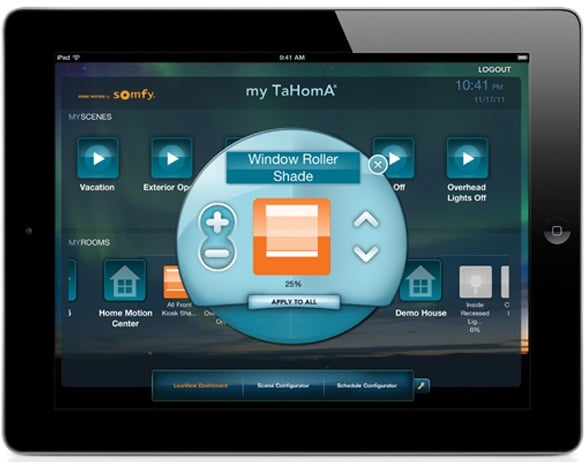 There are many different home automation systems into which motorized window treatments can be integrated. They include Lutron, Crestron, Control4 and many others. Some shade and motor companies like TaHomA / Somfy offer specialized motors and control systems for retractable awnings, rolling shutters, interior shades, blinds, projection screens and other lift-up applications for the home at an affordable price point.
CHOOSING THE RIGHT PROVIDER/INSTALLER
This brings me to a very important topic of choosing the best provider/installer for your motorized window treatments. Because home automation includes so many factors, it is hard to cover all the bases, I want to share a few critical things I have learned on our projects:
The shade or blind manufacturer may offer a one-stop solution for a motorized shade (example: you purchase a shade with the motor included). The problem here can be that their solution typically falls between the "good" and "better" category and they may not be capable of delivering in the "best" category.
Our recommendation is to choose wisely. Know that a highly experienced specialist like Matthew Kandl at Motorized Window Treatments, with whom we often partner, will fit just about any shade with the best motor considering the entire integration requirements. When an installer/fabricator installs all of the motors in their shop and handles the complete installation on site, there is a better chance that they know what they are doing.
Most interior designers love to furnish window treatments and they are the best source for AESTHETICS. The problem I have found is that most designers will try to provide the entire shade/motorization package and may overstate their experience or fail to realize just how complex the automation side can be. As a result, there is a good chance that they will NOT understand much when it comes time to specifying the right motorization and communication methods; this can compromise the way the system performs. If the product is specified, purchased and installed before there are compatibility issues, this can turn into a big finger-pointing session.
If you are working with a home automation company, it is kind of the reverse of what I said about the interior designers. In this case, you may have capable technical people without the ability to offer good design and practical feedback — because that's just what tech guys are.
On a larger project you will likely have a general contractor, and one of the key responsibilities of a good GC is to bring people with the best skills to the table. On our projects, we write up detailed RFQ (Request for Quote) packages. We make sure that everything is clearly specified and that the responsibilities are crystal clear if there are multiple firms involved with the installation. Going through this detailed process takes a lot of time, but that is the value in hiring a good general contractor.
If you want to start a conversation about home automation and window treatments, here's a quick checklist of questions that may be helpful to you as you sit down with your general contractor or tech professional.
Window Treatments – Understanding Your Needs and Wants
Name your favorite piece of art, furniture or accessory in the room(s) in which you are considering installing motorized window treatments.
What are the two primary or dominant colors in or on your favorite piece?
What is the style you are looking for (contemporary, modern, traditional, transitional, eclectic)?
What type of motorized product areyouinterested in, or are you open to ideas (blinds, shades, shutters, draperies)?
What direction do the room(s) and window(s) face (north, south, east or west)?
What are the two most important things to you (functionality/ease of operation; privacy; energy efficiency; style; color)?
What do you want to achieve with your motorized shades (ease of control, ability to control groups of shades at once, energy efficiency, wall switches/remote controls, integration into your existing home automation system)?
How accessible are the windows (8 ft., 9 ft., 10 ft. or cathedral ceilings)?
Is child safety something that should be considered?
Are these rooms used on a daily basis?
How do you want to operate the treatments (manually, remote control, wall switch, home automation system)?
Where are the closest wall outlets to the windows or doors?
Are you willing to install new wall outlets or run low-voltage wiring through the walls?
Have you purchased any blinds/shades/shutters/drapery treatments before? What did you like about them? What did you dislike?
When considering making a window treatment purchase, what is most important to you (selection, service, price, installation time, overall functionality of the product)?
By when would you like to have your new window coverings installed in your home?
It is a good idea to think about how this might effect your broadband. My friend recently changed his broadband through Usave and saved a bunch of money because of it. They rewired his line to make sure that it didn't get in the way of the renovations. If you're interested in saving money, find more offers here.
My next blog about this topic will dig a little deeper into specific products by comparing some of the major products on the market.
Call me if you have any questions in the meantime.