The Chicagoland area has a lot of great suburban towns. One that stands out to me is Barrington. We've done many Barrington remodeling projects over the last few years, including an exterior facelift of another general contractor's spec home, as well as various multi-room renovations. During this period, I really got to know the community. If you're contemplating a move to the suburbs, I would recommend you consider home building in Barrington. And if you already live here, remodeling in Barrington is a great investment. Here are just a few reasons why I think so.
I spoke to Juli Schatz this week, director of communications for the Barrington Area Chamber of Commerce, who highlighted a number of reasons why people choose to move to Barrington. The town motto is "a great place to live, work and play" – I agree with this sentiment.
Excellent Schools
Only one percent of teachers in the country are National Board-certified. It is the highest professional certification credential in the teaching field, so if you've achieved this, you're definitely one of the select teachers in America. In January of this year, five teachers from the Barrington 220 School District were awarded National Board Certification from the National Board for Professional Teaching Standards. In total, there are now 38 National Board-certified teachers in District 220.
Park District – Facilities Galore
With 10 spacious parks, several facilities, various fitness programs and annual events, the Barrington Park District offers residents and guests plenty of recreational options. If you haven't checked it out yet, stop by the Pepper Family Tree House at Citizens Park, pictured below.
And if you're an equestrian or maybe have a child who wants to start horse-riding lessons, Barrington is the place for you. You'll feel like you're in the country when riding through the town's forest preserves and horse trails.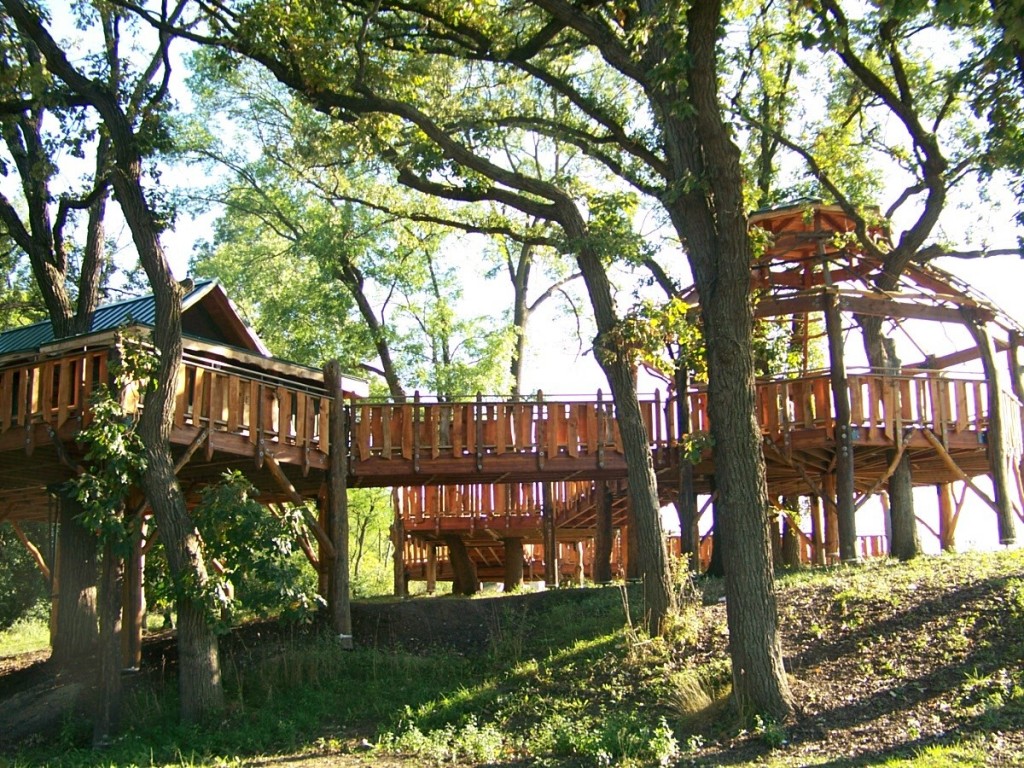 Shopping, Dining and Social Scene
For mom and dad, Barrington's quaint downtown has a lively social scene that caters to all tastes, whether you're into shopping, grabbing a bite to eat or a cup of gourmet coffee. If you're after something a bit stronger, try a pint of beer at McGonigal's Pub on Cook Street, whose annual St. Patrick's Day celebration "keeps getting bigger and better," according to Juli. Speaking of enjoying the social scene, the I-90 / Illinois Route 47 Interchange Project – which will make it more convenient to get to and from Barrington – is scheduled for completion this year.
State-of-the-Art Health Care Systems
The healthcare systems in the Barrington area are also a huge draw. Just three weeks ago, the Illinois Health Facilities and Services Review Board approved the Certificate of Need application for the Advocate Good Shepherd Hospital Campus Modernization. According to the hospital president, the modernization project "will improve the patient care experience by enhancing privacy, offering the most advanced technology and making it more convenient to access our inpatient and outpatient services."
In addition to Advocate, Barrington is also home to Alexian Brothers Health System, which ranks in the top 10 among 119 Chicago metropolitan area hospitals in U.S. News & World Report's annual Best Hospitals list for 2013-2014. Furthermore, nearby Northwest Community Hospital is an award-winning hospital featuring state-of-the-art technology and a full range of medical specialties.
Magnificent Homes for Remodeling
Equally important to healthcare facilities are safe homes that foster a healthy, active lifestyle. Remodeling in Barrington is really popular currently, as many families are updating their homes to accommodate aging parents coming back to live with their children or, on the opposite side of the spectrum, college graduates coming back to live with mom and dad until they can fully support themselves. The homes located throughout the larger lots and sprawling estates of Barrington can accommodate this situation comfortably for you empty nesters who really aren't "empty nesters" anymore.
Barrington homes range in style from lavish country estates and Greek revival homes to traditional Georgians and coach houses and everything in-between. You will find something suitable to your lifestyle and budget, though it might be outdated. Make the investment; again, it's worth it.
Whether you want to get out of the city, provide a solid upbringing for your young school-aged children, help support your college grads, or assist in caring for your parents, I highly recommend building or remodeling in Barrington.