Every so often, associations for home builders, architects and interior designers issue interesting lists outlining which home remodeling trends are the most popular in the industry. In fact, a recent Builder magazine post lists 15 leading design trends in single-family living for 2013. Why are we all curious to read these round-up style lists? The answer is simple: We want to feel like we're on the right track and making the proper investment in our homes. We also want to feel relevant – it's part of human nature.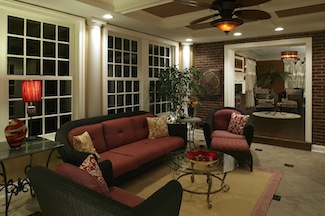 You've probably come to some of the same conclusions just by watching what's happening in your own neighborhood or in talking with friends, family and business associates. For my part, here are eight design trends from the Builder magazine post I've noticed this past year as a custom home builder and remodeler serving the Chicagoland area.
8 Leading Home Remodeling Trends
1. Smaller Homes: The American Institute of Architects' (AIA) 2013 Design Trends Survey indicates that clients are asking architects to create plans for smaller homes, in part, because they want to save on energy costs. As the article points out, scale and functionality are trumping size.
2. Super-sized Kitchens: Homes might be getting smaller, but kitchens keep getting bigger. We all know it's the hub of a home for everything from entertaining and eating to doing projects and paying bills. Islands and their surrounding seating areas continue to expand in size.
3. Covered Outdoor Rooms: There's nothing like enjoying some fresh air and extending your living and entertaining space into the outdoors, all while being protected from nature's elements. I am currently building a covered outdoor space for my home; I'll be uploading the images onto my company's gallery page soon!
4. Spa-like Master Baths: When our hectic days come to an end, we all need a haven in which to unwind, and the spa-like master baths provide this comfort. Many homeowners are retreating to the few remaining places they can escape from smartphones and other external distractions. It may not be quite the same as a spa experience, but hey, at least you save money on the tip.
5. Storage: Big shocker here: nearly 80% of homeowners want more storage space. For many, inadequate storage can be such a problem that it becomes a major deciding factor for moving.
6. Dual-use homes: Cultural and financial reasons have given rise to multi-generational living all across the country. In these types of set-ups, remodeling lower-level suites is especially critical. This idea is backed by a report about home feature preferences from the National Association of Realtors, which notes that the rooms with the highest dollar value for buyers are basements and in-law suites.
7. Technology: Think back 10 years ago. A "tablet" was a pill you took, not a hand-held electronic device. Then consider laptops, iPads, smart phones, desktops, gaming systems, flat screens and any number of other tech devices that need to be charged or have plug-in capability. These products have impacted our lifestyle, which means they're also impacting how our homes are conceived and built. Builders and architects are facing new design challenges as we try to accommodate smarter, sleeker electronics such as hand-held devices and flat screen TVs.
In addition, home automation for security, window shade control, lighting control and energy efficiency are driving this trend. Consumers who desire these "smart home" features love the fact that they have the ability to modify their entire home's lighting, for example, with the touch of a button.
8. Dogs: Americans are pet-lovers. Approximately 37% of homeowners own a dog, and they want appropriate pet-related features included in their homes, such as doggie doors, pet showers and storage (there's that word again: storage!).
I can tell you from experience that these trends are spot on. The remodeling projects we've undertaken for our clients reflect the need for better technology, effective amenities, easier access and flow, improved outdoor living spaces, and enhanced aesthetics and functionality within existing homes.
Home Remodeling Trends: A Few Takeaways 
Have any of these trends got you thinking? If so, here's some practical advice from a custom home builder and remodeler who's been doing this for 24 years:
List what works in your home and where it lacks efficiency based on your family's lifestyle.
Jot down the "must have" items and "would like to have" items for your family.
Form a timeline or game plan that's ideal for you; keep in mind, if the renovations are significant, you may not be able to stay in your home.
In addition to working with a trusted general contractor, it's wise to retain the services of a professional interior designer. When clients are working with us, we often arrange to have their project designed by one of the trusted designers we've partnered with- a professional who shares our passion for great design and respects the boundaries of our client's budget.
To maintain quality control, ask to see the written documents your general contractor uses to ensure all work done is checked at the appropriate phase.
Inquire about your general contractor's communication system so you will know exactly how you will be kept apprised during each phase of the building or remodeling process.
Establish a budget range for the project, and begin prioritizing with your builder.
In the end, what matters most are the custom changes you decide to make to your home that help you better adapt to your lifestyle needs. If you're "on trend" as they say, that's always a good thing, too. American homes are changing to reflect the times – are you keeping yours current?