If you had the ability to control your home's lighting functions with a touch of a button or voice command, would you? Of course you would. Does the thought of monitoring your home through your smartphone when you're away appeal to you? Of course it does. So maybe now is the time to act on that "tech-y" side of you, don't you think? Home automation in Highland Park IL can begin with lighting control systems if you're looking for a good first experience.
When I wrote a previous blog post introducing home automation to you, I gave a general overview of what it is and how homeowners are choosing to incorporate it into their daily lives. This wave of tech-savvy homeowners grows steadily as time goes on, which is why home automation is becoming more mainstream, according to an article in PC magazine from January 15, 2014, titled "Nest and Beyond: A Beginner's Guide to Home Automation."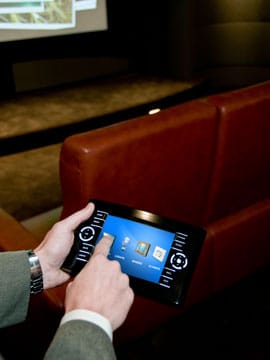 Pictured above: Companies like Crestron offer lighting control and quiet motorized shading solutions for the home with the touch of a button on your touch screen or smart device.
As with any type of remodeling within your home, don't try to do this alone – that's my biggest piece of advice to you! There are so many decisions to be made: from choosing wireless or wired technology – or a combination of both – to the types of products to use. We've collaborated with Tim Imrick, project designer with Grand Home Automation. Grand Home Automation is one of our expert partners. What remains among the most popular, entry-level type of home automation is lighting controls, so I thought I'd address that specific topic here. 
Compare these two pictures.
Pictured above (LEFT): RadioRA 2 by Lutron, which is a wireless total home control system we've installed before with the collaboration of Grand Home Automation. It's a sleek, intuitive wall switch.
Pictured above (RIGHT): A large bank of switches that takes up too much space; no one knows which switch controls which electrical fixture.
Basics of Lighting Control Systems
You do not have to have an ultra-modern contemporary home in Highland Park, IL, or a sprawling ranch in Oak Brook, IL, to benefit from the advantages of using automated lighting controls. Let's start with the why – why have lighting controls? According to Tim, there are five really important reasons for them.
Why
1. Convenience: Automated lighting systems allow for the control of large areas of lighting (ex: "House Off") from one location or via tablet Apps and remote devices.
A.      An example is a basement "OFF" button on the upper floors. If you know no one is on your lower level, you can quickly make sure all the lights are off. The same can be said for a whole house "Off" or "Away" mode on exit.
B.      Scenes allow for the recall of lights in a space to predetermined levels without the need to adjust each light every time there is a need. An example of that is entertaining or cooking in a kitchen, which may require specific intensities of certain lights.
2. Security:  Allows for scheduled lights in areas to turn on and off on their own based on the time of day (sunset and sunrise) or vacation modes (random lighting events).
3. Design: Lighting control can limit the number of switches and dimmers in the wall and offer small buttons with text on them giving the user a clear path to controlling specific lights or areas without guessing.
4. Energy savings: Lighting control can be augmented with sensors for motion, and daylight, integration to affect the brightness of a room based on its occupancy and ambient light.
5. Integration: Lighting controls can be connected to security and other control systems to allow events to be performed based on the input from other systems.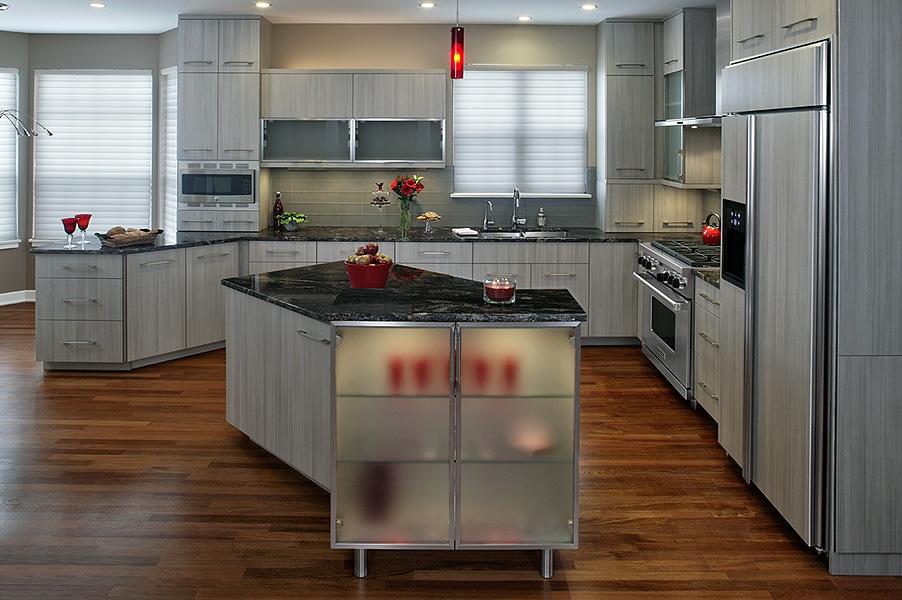 Pictured above: A whole-house remodel we recently completed with a fully integrated home automation package. 
Types of Lighting Control Systems:  Local or Centralized (Whole House) 
There are basically two types of lighting control systems: local or centralized.
1. Local: This involves replacing existing switches and/or dimmers with (smart) devices that allow them to communicate wirelessly with each other and a central controller.
A.      Benefits:
i.      Lower cost to implement over a centralized system as it involves installing or replacing only those lights you want controlled.
ii.     Lights are wired in the traditional manor so most electricians are very comfortable with implementation.
B. Drawbacks:
i.      Does not eliminate the "clutter" of multi-gang switch locations (also referred to as "wall acne")
ii.     Wireless devices can be susceptible to some interference, though rare.
Pictured above: The centralized control panel of the whole-house remodel we recently completed, which features a fully integrated home automation package.
2. Centralized: This involves running the wires from each light to a main switch panel location and locating only a keypad in the room.
A.      Benefits:
i.      Very clean look as there is typically a 1- or 2-gang keypad in each room
ii.     All electrical components are located in a mechanical space and not in the room generating heat.
B.   Drawbacks:
i.     Requires more design and labor for high-voltage planning and installation
ii.    Higher cost to implement as it is not a standard job for electricians or designers
Installation
When having these systems installed, the team at Donatelli Builders strives for smart placement of switches. We take great care to limit the ganging to single or two-gang configurations so switch clutter is eliminated. We also try to be consistent from room to room to the degree possible so there is less to think about as the homeowners are using the system.
 Costs for Lighting Control Systems
I can only give general price ranges here because costs depend on a variety of factors. Generally speaking, costs typically range from $100-$500 installed per light for control based on the type of light and device brand. Lighting control companies whose brand Tim and I have worked with before and would recommend include Lutron, Control4, Leviton and GE.
Just like the Greek philosopher Heraclitus said, "The only thing that is constant is change." Make 2014 the year you explore home automation and experience some of the great technology advancements of our generation.