I field several questions from clients about the difference between architects and interior designers. When I'm in a discussion about plans to build their new custom home or renovate their existing home, this topic tends to surface to the top – and for good reason. Homeowners want to make sure their project is built or remodeled as efficiently as possible, and that means assembling the right design/build team from the very beginning.
As a general contractor, I greatly value both of these professions and hold each in high esteem. However, I've also witnessed friction when competing professionals aren't clear about steps/tasks that overlap within a project, which is often the case! You may have had a previous positive experience where everything worked out for you. If so, great. For those of you who haven't undertaken a custom home building or remodeling project, I'd like to shed some light on this topic and offer you advice that will help you avoid major pitfalls.
Over my 25 years in business, it's undoubtedly true that the best project outcomes are the ones where the architect, designer(s) and home builder have excellent synergy, a great sense of collaboration, respect everyone's roles and complement one another's area of expertise.
SIMILIARITIES BETWEEN ARCHITECTS AND INTERIOR DESIGNERS
Let's start with the similarities between these two fields. Experienced architects and interior designers (not the same as interior "decorators") are qualified to create / design spaces that solve problems for homeowners. The primary way they do this is through spatial design and planning. The architecture and design fields are considered both an art and a science. The spaces these pros create need to be structurally safe and sound, functional and aesthetically pleasing. There are many technical aspects of design that both disciplines are required to understand thoroughly and properly address in their plans.
Architects and interior designers typically:
Have cross-over skills, namely space-planning
Are up-to-date with a state's building codes and regulations
Have specialties they bring to the design/build team
Can draw from past projects / experiences to make suggestions
Are creative and artistic individuals
Ask a multitude of questions to gain an understanding of your lifestyle (how you live and the activities you do in your home), design likes/dislikes, the "look" you're seeking, your needs and wants
Will present ideas that you haven't thought of before
Recommend incorporating innovative, cutting-edge products into your home
Take continuing education courses to stay current
Attend trade shows and meet with manufacturers' reps to learn about new products and services on the market
Will closely examine materials, finishes, furnishings and cabinetry to make sure they are the right fit for the client and for the home itself
DIFFERENCES BETWEEN ARCHITECTS AND INTERIOR DESIGNERS
In theory, architects and interior designers are highly trained professionals with comprehensive knowledge of architectural principles. Historically speaking, these two groups study different disciplines. Architecture is a highly regulated field. Above anything else, architects must design homes that are safe for the occupants. Because architects work with the main structure of a home, they are authorized to make changes to it. Interior Designers are allowed to change the parts of a home that do not interfere with its actual structure.
Generally speaking, architects:
Design the whole structure of a home (its exterior and interior structure)
Include electrical and plumbing requirements in each plan
Focus on the home's exterior design elements, and also its interior architecture, trim, millwork and ceiling finishes
In certain cases, select the tile, flooring and lighting (fixtures and placement)
Generally speaking, interior designers:
Design the look/style of a home's interiors (usually all rooms)
Include a lighting plan for each room
Design backsplashes, choose all tile, flooring and lighting (fixtures and placement)
Focus on selecting interior materials, finishes, hardware, furnishings, textiles, drapery/window treatments, paint color, wallpaper and accents
What I outlined above are not hard and fast "rules." There are hundreds of particulars here that I can delve into in future blog posts. I've worked with talented architects who take it as far as completing the entire home's interiors (anything that "remains" within the home when it's sold, such as tile, flooring, cabinetry, custom build-outs and accents). Conversely, I've worked with proficient interior designers who have gutted rooms and designed spaces with beautiful architectural detailing. As you can tell, there are boundaries between the two, yet a little blurring in the middle where skills cross over.
What it really boils down to is that your skilled general contractor should be the captain steering this ship. Be cautious when interviewing and choosing a contractor for any job, and be sure to ask him several questions about how he manages the design and building process.
Some architects like to pick finishes all the time, and some interior designers prefer handling the space plan completely (a dilemma more common than you might assume). I've seen this issue cause problems. This is where the train can derail unless your experienced contractor is clear from the beginning. You, the homeowner, will benefit from hiring a home builder / remodeler who can oversee this process to ensure that there is minimal overlap. When working with us, clients know I have this issue covered so they can avoid the explosive land mine of "dueling design professionals."
Take a look at these two flow charts that I've use when working with more than one design professional. These are examples for the sake of sharing information with you; every project is different. Before we commence a project, everyone agrees who will take the lead role when there is overlap. As you can also see, timing is very important.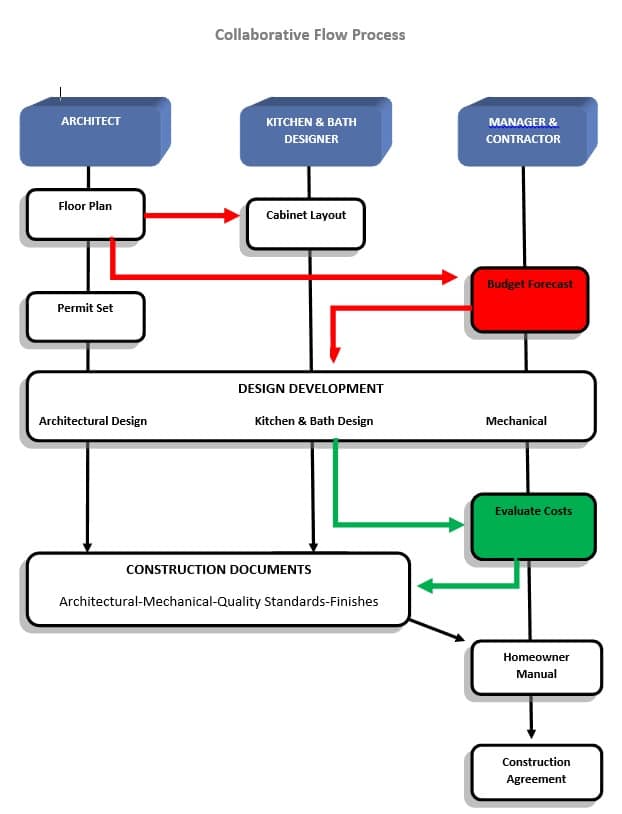 WHO TO HIRE FIRST?
Your general contractor should be hired first, if possible, or at least be brought on board before any design and planning decisions have gone too far. Part of the undeniable value of having someone like Donatelli Builders, Inc. as your contractor is that I personally make it crystal clear who is responsible for what, and I also will step in and redirect the ship when needed. If you don't have someone like me leading your construction project, it can turn into a BIG disaster.
In addition, your general contractor should make sure that each professional of your design/build team is held accountable for his/her work and is always keeping the same end goal in mind: ensuring that your project is successful on both a functional and aesthetic level. With everyone working together toward a clear vision in mind, solutions will be achieved in an efficient way.
Finally, some construction companies are set up where they have an architect, interior designer and kitchen designer all under one roof as employees. I would advise you to avoid this scenario as well since it comes with its own set of disadvantages. Take a look at my blog titled "Do Home Remodeling Contractors Need Staff Designers?"
If you come away with knowing a little more than you did 10 minutes ago, then you've achieved a victory. This is a topic that doesn't get covered a lot, but it should. I merely presented the "tip of the iceberg" as they say. If you want to ensure your custom building project doesn't go down like the Titanic's maiden voyage, please give me a call to chat further.