Guest blog post written by Hinsdale IL interior designer Donna Hall, ASID, NCIDQ, founder and principal designer of

Savvy Interior Design, Inc.
It's such an ambiguous word: Transitional. Wikipedia's explanation:
Well that explains … nothing. Lucky for you, I have an opinion about just about everything. So I'll fill you in on my interpretation of what transitional design means and how you can incorporate it into your interiors. I promise to use lots of pretty pictures to keep you engaged.
Think of transitional as a bridge between traditional and contemporary design. Transitional falls somewhere in between, incorporating elements of both in a fresh, new way. It's not an extreme of either, but more of a softened version of both. When you walk into a room that's designed with a transitional flair, you can immediately tell that it has a comfortable, relaxed, uncomplicated and timeless feel to it.
So let's take a closer look at some examples. Here are a few of my favorite tricks to bringing transitional design to life:
This gorgeous master bedroom is a perfect example of blending old and new. The old world chandelier and limestone fireplace surround with a Tudor arch pay tribute to history while the clean-lined Barbara Barry upholstered headboard and simple bedside tables evoke modern luxury. Throw in a softly ribbed area rug from Kravet to ground everything and a heavily distressed bench to "dirty" things up a bit and you have yourself an eclectic mix of eras.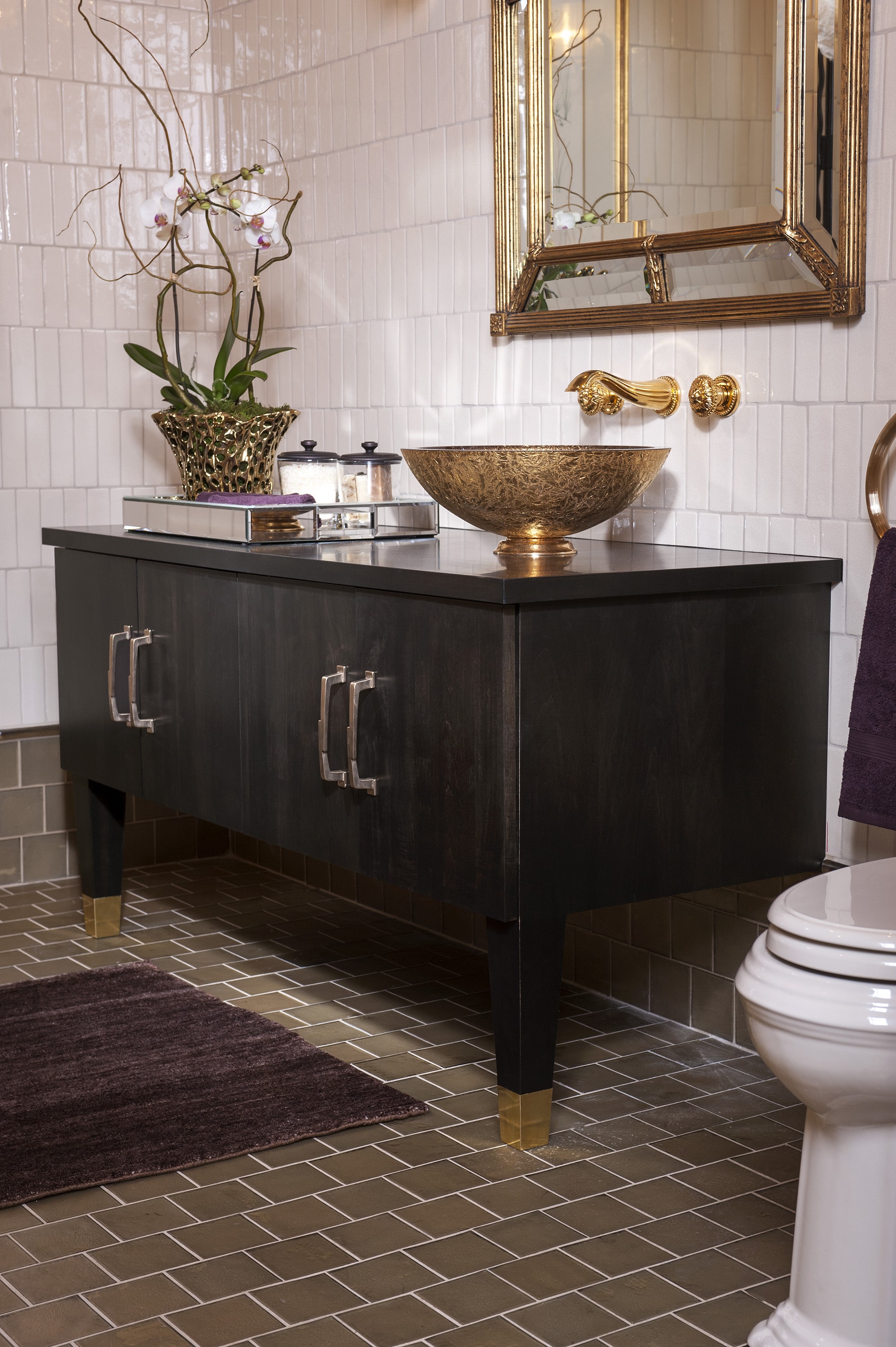 Ornate meets simplicity in this glamorous powder room! The gilded and detailed vessel sink, faucet and mirror create the perfect juxtaposition to the very clean custom cabinet we created. Simplicity prevails in the glass subway tile from Ann Sacks. The ferrules (designer lingo for pretty feet on the cabinet legs – the fashion equivalent to Jimmy Choos) just add another nod to tradition!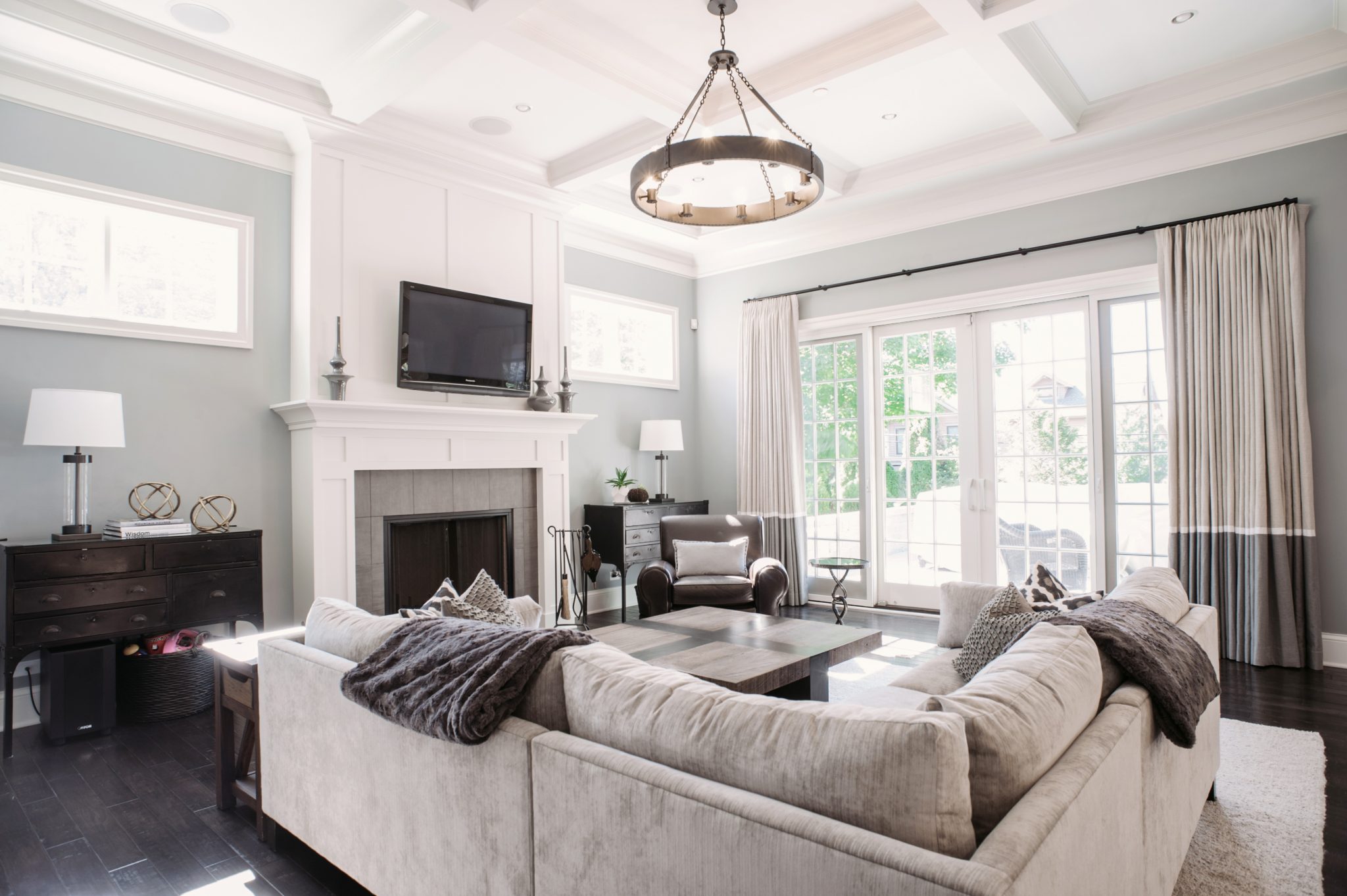 This bright and airy family room leans a little more towards the contemporary side of things. With all the gorgeous millwork painted white, it takes on a much more simplistic feel. Notice that the furnishings are very linear in their form, supporting the cleaner look. We added some industrial touches in the chandelier, matching metal chests from Arteriors, and iron link accent table to keep things interesting. So serene but never boring!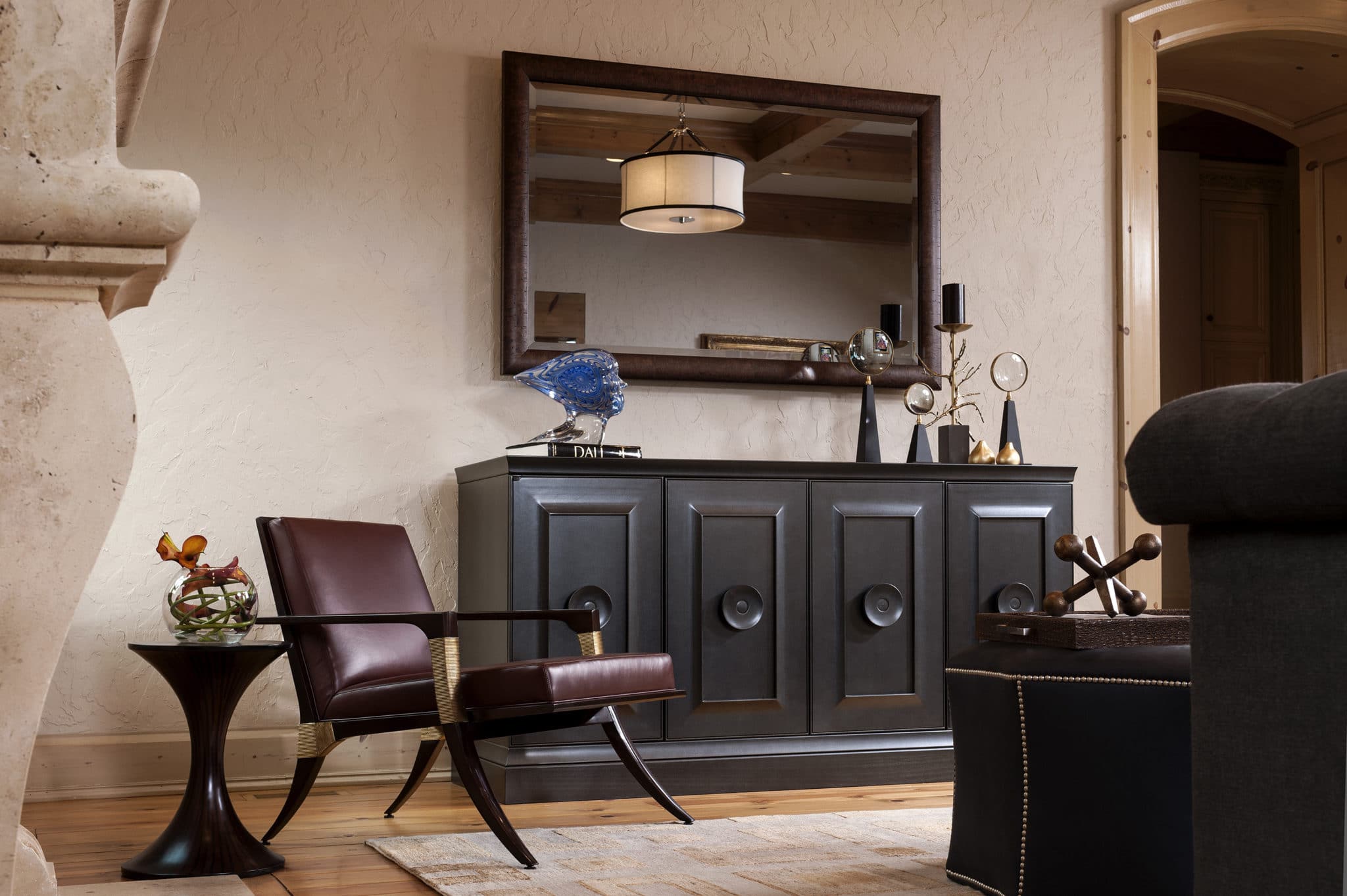 Giselle's got nothing on these sexy legs! Born out of Greek origins, this contemporary take on traditional splayed legs pictured above gives this elegant chair from Baker so much charisma! We chose a subtle Italian leather to keep the chair sleek and sensual. I think I have a crush on this beauty. Notice the tailored Ralph Lauren drum fixture from Circa Lighting that's reflected in the mirrored television.  Such a clean contrast to the troweled plaster walls and limestone fireplace surround.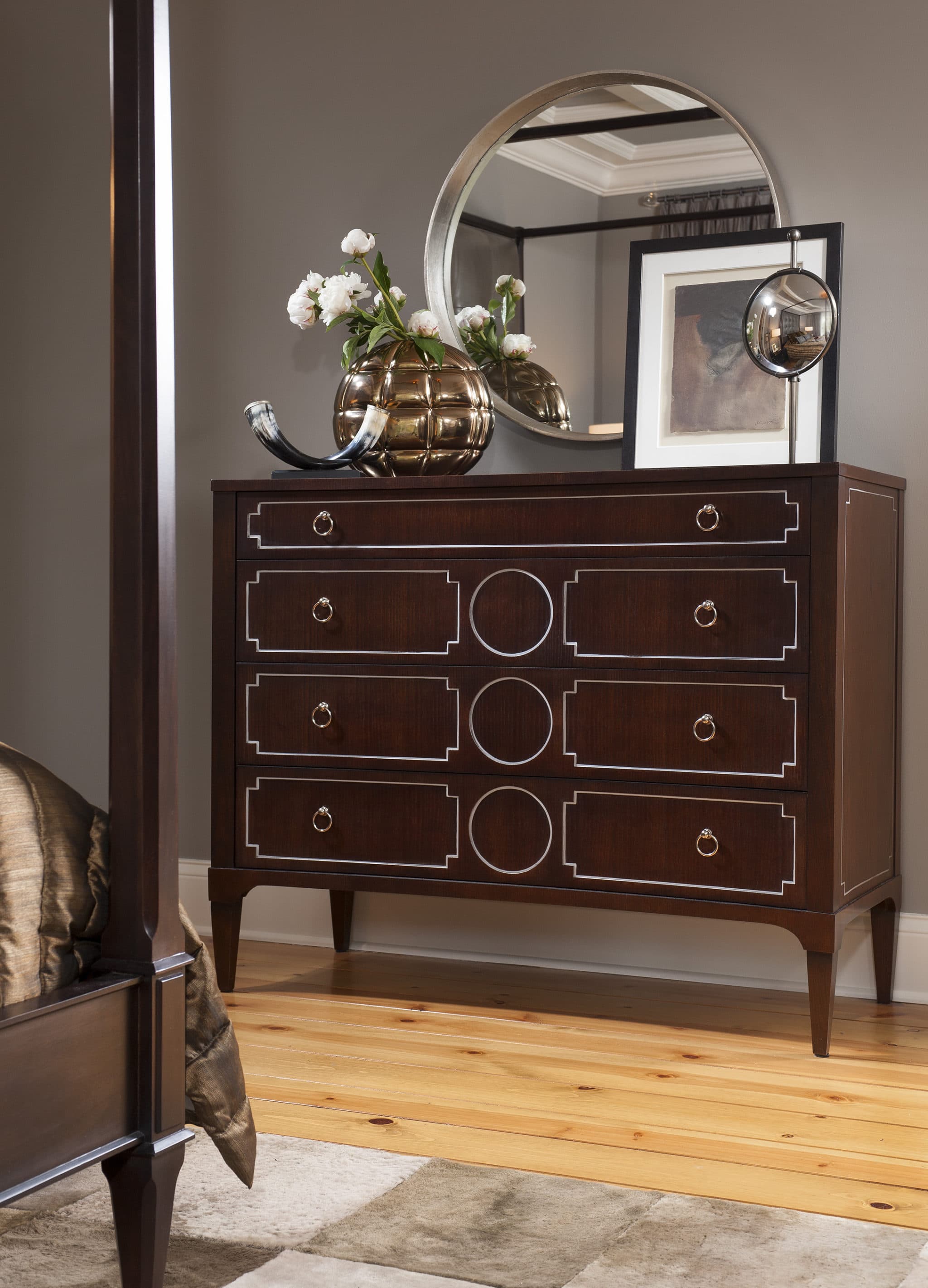 Hoping this chest we designed through Hickory Chair would make Dorothy Draper proud (Queen of Modern Baroque – the 1940 version of transitional design in my opinion)! Adding the silver pin-striping takes this handsome chest from predictable to dashing. Add a variety of cool accessories and you're all set! Love this quote from the design diva herself: "It is just as disastrous to have the wrong accessories in your room as it is to wear sport shoes with an evening dress."
Ok, that quote had nothing to do with transitional design, but I couldn't resist the reference to fashion. I fall for it every time.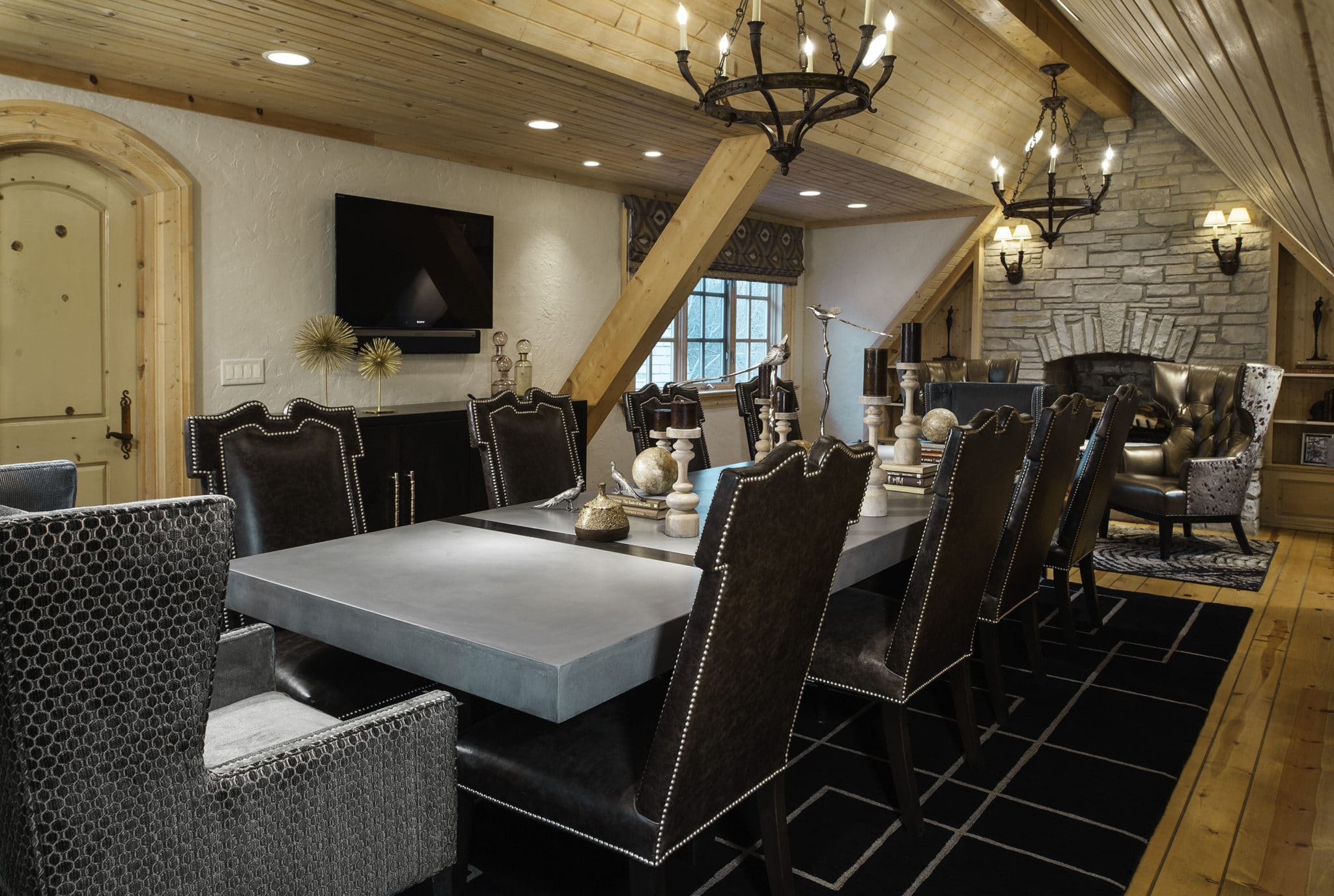 Concrete, knotty pine, geometrics, and nailhead detailing? Who would do that? Oh yes … we dared. The leather dining chairs from Kravet couldn't be more traditional and offer a fantastic opportunity to conflict with the very minimalistic concrete and metal custom dining table we had made. Modern wing-back captains' chairs and geometric rug reinforce the contemporary side against the plethora of knotty pine detailing and medieval chandeliers. Can't you just see David Beckham holding a giant turkey leg in one hand and wine chalice in the other? Sorry – his Super Bowl ad is still happily stuck in my brain — I imagine him everywhere.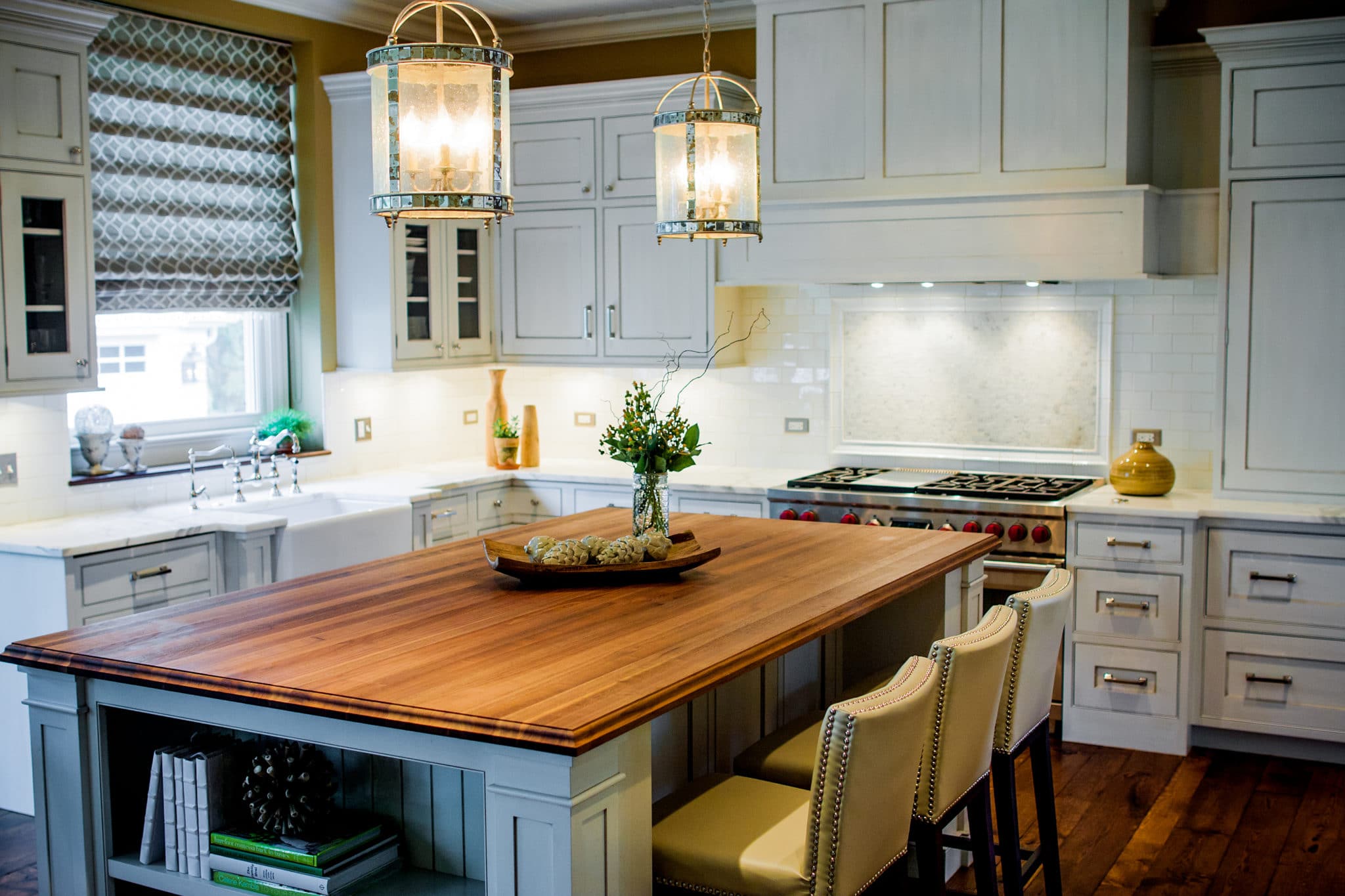 This is one of my favorite kitchens that we designed and a perfect interpretation of transitional design. The cabinets are so simple and have very little detail, which playsso nicely with the more traditional elements like the farmhouse sink and elegant bridge faucet. We kept the backsplash classic in a handmade subway tile and Carrera mosaic accent tile from Waterworks. Top it all off with antique mirrored pendants from Currey and Company and modern leather counter stools with sleek silver nailheads and you have the perfect infusion of past and present. Talk about timeless!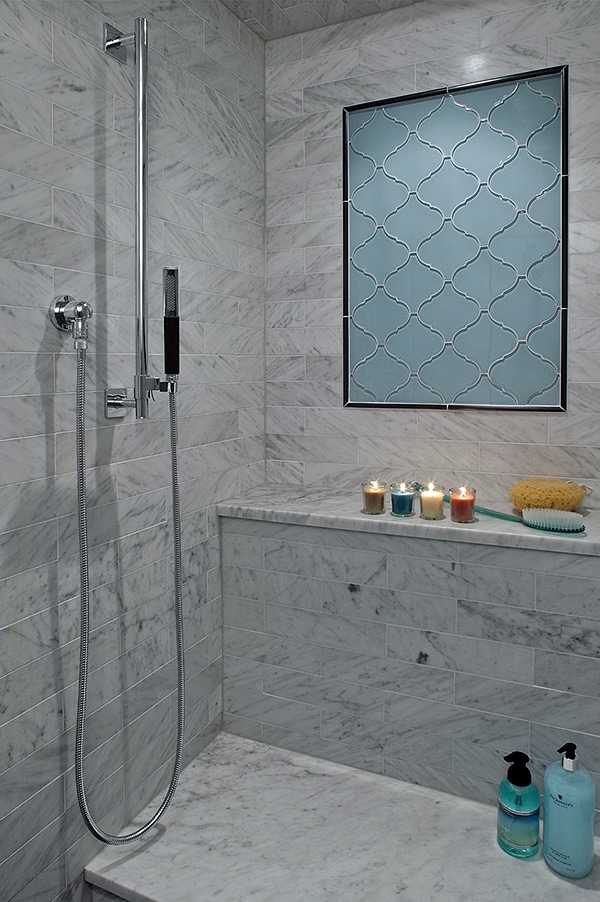 This gorgeous bathroom by Donatelli Builders gracefully blends the long rectangular Carrera marble field tile from Virginia Tile with a glass tile insert in a trellis pattern from Ann Sacks that has some serious Moroccan influence. Taking a classic shape from history and interpreting it in a new way is what transitional design is all about!
This all may seem very effortless, but that's because we're professionals!  Finding the perfect balance of old and new can be tricky. I'll tell you to try this in your home but if you get stuck, and you might, call a professional! I may just know of one! Hope you enjoyed my blog. I'd love to hear your thoughts on transitional and what it means to you. I have to run … I think I just saw Beckham.