Naturally, this is always one of the first questions prospective homeowners want to know when beginning their research on costs to build a new custom home. A home purchase is not similar to a commodity purchase such as an automobile, a coffee table or a pair of shoes. You can't compare apples to apples (ex: buying a fully loaded Lexus RX from this dealer versus a fully loaded Mercedes-Benz GLK from that dealer) because — with home building — there are so many variables, options and quality of service/skill spectrums to consider.
Families are willing to invest a large chunk of their savings into building a new custom home because they know a home is where memories are made and cherished. I'll leave the "memories" portion for you to fill in. Today — with candor — I'll try my best to address what it realistically costs to build a new custom home and provide insight into the business side of this process. Over the course of this blog, keep in mind that the price ranges will be based on averages.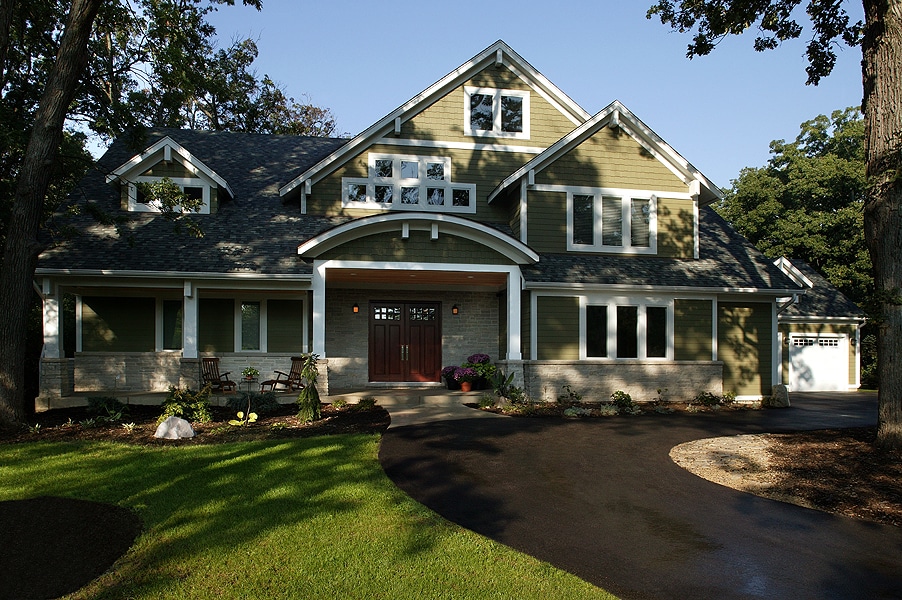 Though smaller homes can absolutely be custom-built, the custom home market generally starts with footprints in the two-story, 3,500-square-foot range with the average price range starting at about $200 per square foot, not including the land and design fees. Higher-end luxury custom homes appointed with some of the finest finishes and an intricate home technology system can cost upwards of $350 per square foot, not including the lot. In a nutshell, a 3,500-square-foot home would start at $700,000.
I'd like to share some detailed insight into the business side of things and offer up a pricing breakdown for building a new custom home. If you're reading this, I can already tell that you're a savvy, cost-conscious individual who wants to protect your assets and make the best decisions.
If you're like me, you also place great emphasis on what I refer to as value engineering: getting the most value out of your dollars spent without ever sacrificing quality. I've spent 25 years building and renovating custom homes, and over that time I've developed smart, efficient and creative ways to reduce costs for my clients. I never grow tired of asking questions and evaluating alternatives to provide optimum value while protecting the pocket books of my clients.
Let's take a look at the six categories associated with the cost of building a new custom home. For those of us who prefer visuals, here's a link to a pie chart with percentages, on average: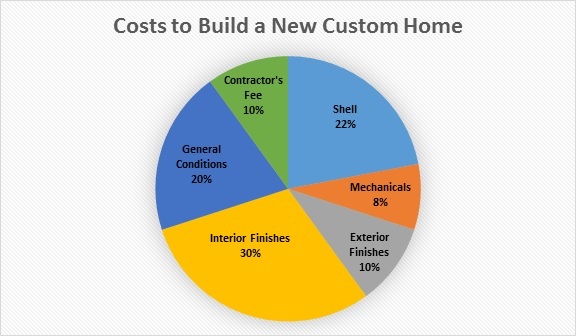 How much does it cost to build a new custom home? Cost breakdown of six categories:
Shell of Home          22 percent
Mechanicals              8 percent
Exterior Finishes     10 percent
Interior Finishes      30 percent
General Conditions  20 percent
Contractor's Fee      10 percent  
Shell of Home: The shell is essentially the structure of your home. These items are not typically "selectable" items. Included is the excavation, foundation, framing, lumber, labor, insulation, drywall and structural steel.
Mechanicals: HVAC, plumbing, electrical.
Exterior Finishes: All of these are selectable items and include roofing materials, flashing (aluminum or copper), windows, doors, siding, trim, brick, stone and stucco.
Interior Finishes: This is where clients have total control of the cost to build a new custom home. All of these items are selectable and run the gamut as far as price ranges go. Interior finishes include plumbing fixtures, electrical (lighting) fixtures, low-voltage, appliances, flooring (hardwood, tile, stone, carpeting), wood trim, cabinetry, counters and solid surface, fireplace fronts, doors, moldings, stairs and rails, hardware, shower doors and mirrors, and paintwork.
General Conditions: This grouping consists of on-site essentials that keep your project moving along swiftly, accurately, safely and without delay (ex: direct site supervision, project management, fencing, house protection, garbage removal, utilities during construction, village permit fees, overhead and insurance.
Contractor's Fee: Your contractor is ultimately responsible for not only ensuring your new custom home is built to your specifications on time and within budget, but also to manage and hold accountable all sub-contractors, design professionals, vendors and parties involved.
As I referenced earlier, what's excluded in the pie chart above are two other categories I classify as "Site Costs" and "Design Fees."
Site Costs of a Building a New Custom Home
Every new custom home project is unique, and the costs associated to build yours will vary on the land you purchase, its current condition and how much preparation it needs prior to breaking ground. Site costs include engineering and surveys, tearing down an existing home, water-and-sewer or well-and-septic services, underground utilities, driveways, sidewalks/walkways and landscaping. For a 3,500-square-foot home on a fully improved lot, the site cost average range would be between $25,000 – $50,000.
Design Costs of Building a New Custom Home
And the obvious additional costs come early on in the design phase of planning for a new custom home: architectural design, cabinet design, interior design, lighting design, etc. are all common design requirements that need to be addressed. Because there are so many factors based on individual owner needs when it comes to design, I will leave this topic for an additional post.
What I will say is to remember that design and building are separate to the degree that there is different training required to perform these tasks. When it comes to the discussion of building costs for a new custom home, I strongly advise any building prospect to consider that they both need to come together and the specialists absolutely need to be part of a cohesive team. The more experience the design and building team have working together, the better the cost control will be (again, a separate post for this issue). In the building industry, the concept of blending the design and building of a project is commonly referred to as a design/build offering.
Take a look at our Collaborative Building System to get an idea of what I'm referring to.
I hope this blog article was helpful as you begin your journey to figuring out costs to build a new custom home. Remember: smart people ask questions. Keep asking!