If you stop to think about all of the activity that goes on in the kitchen on daily basis, it's really staggering. And what's the anchor of any kitchen? The countertops. Whether it's you prepping food or the kids doing their homework, your kitchen countertops are in use constantly. Countertops are such a critical element of kitchen design and functionality, yet many homeowners get stumped when it comes to choosing them. Hopefully I can help you sort through some questions you might have by offering up my perspective.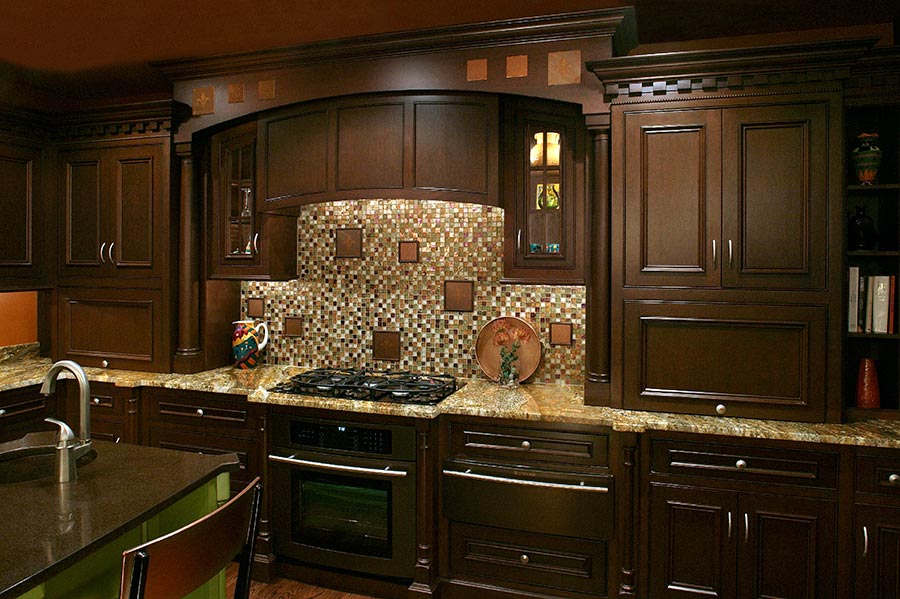 First of all, I'm not a kitchen designer. However, as a Chicagoland home builder and remodeler, I collaborate with some of the best in the business. I'm not here to tell you which kitchen countertops complement the cabinetry you desire most. I'm here to point out a few distinctions between the numerous options available. I know from experience how overwhelming all of the information out there can be to homeowners.
Let's start at the beginning. To select the right kitchen countertops for your new home or remodeling project, it's helpful to have a general understanding of the different types building materials available. Here's a quick overview.
Kitchen Countertops – An Explosion of Choice
The market for kitchen countertops has exploded over the last 20 years. When I started my business in 1989, there were very limited choices. The most popular (and least expensive) option at the time was laminate countertops. Not a bad place to start.
Laminate: Basically made from a wood base with lamination applied over the surface, laminate countertops are better known by their commercial brand name, "Formica." You can find plenty of companies today that manufacturer laminate countertops. We don't deal with laminates because they are not very popular with our clients, though they are an inexpensive option for those on a tight budget.
Today's wood laminates have branched off into two broad groupings: standard and high-definition. A "high-definition" laminate still has a plastic coating applied, but it's going to give you a higher quality pattern and nicer-looking edge detail. Neither standard nor high-definition laminates are very suitable for a kitchen because they cannot handle heat. In my opinion, wood laminates are a better choice for a bar area or for people who are extremely price-sensitive. I would classify laminates at an "entry-level" price point, perhaps attractive to those who flip inexpensive homes as a side job.
Solid Surface: When the market expanded away from laminates, DuPont introduced Corian, a versatile man-made product ("engineered solid surface"). To make Corian, DuPont mixes acrylic polymer and alumina trihydrate (ATH) into slabs that are dense, flexible and easy to cut. This allows design professionals to be more creative with the material.
Although solid surfaces usually land in the mid to upper-market price point, the fact that they can be produced in multiple shapes and sizes and are available in hundreds of color patterns and styles makes them an attractive option. Because solid surfaces are man-made, their look is reliably consistent; if you buy from a sample in a showroom, you can expect to receive a nearly exact duplicate when your order arrives.
Solid surface countertops are non-porous, low-maintenance and have invisible seams. Though durable with a strong resistance to stains, solid surface materials are not 100% heat-resistant (FYI- before ordering any kitchen countertop, you should always ask the manufacturer about each product's particular criteria for handling heat).
Quartz: Quartz is a rock that's available both in its natural, mined form and in a lab-engineered form. The quartz manufactured in a lab is comprised of fragments of natural stones and resins that undergo a chemical process which compresses them to the point where the materials will take on the form of a slab. Engineered quartz is less expensive than natural quartz, and the color combinations are extensive. Fabricators can also do a great job hiding seams.
In addition to being durable and consistent ("what you see is what you get"), quartz provides that "smooth" contemporary look with marble-like detailing that people love to see on their kitchen countertops. In fact, many of the homes we've remodeled feature quartz countertops. When looking for quartz, be less focused on brand and more focused on how the product is made and what qualities it has. The pricing structure varies, usually starting in the upper-mid to upper-end range, depending on its provenance (engineered vs mined) and its color group. As a rough benchmark, it's almost in the same ballpark as natural stone.
Natural Stones – Granite, Marble, Soapstone: Natural stones have been used in construction around the world for centuries, but only fairly recently have they been used as kitchen countertops. What is their primary appeal? Man cannot reinvent their beauty. It's that simple. Not only is natural stone well, all-natural, it's also 100% heat-resistant and can be custom cut and shaped into anything you desire with any type of edge detail.
The only downside is that all-natural stones need to be maintained with stone sealers, so they require more work. Be careful of marbles because they are softer and stain easier. Though the veining is elegant, I would steer you away from marbles in the kitchens (I think they're better for bathrooms). Soapstone is a soft yet resilient metamorphic rock that contains talc. It has a great look, but will darken over time and needs to be polished regularly with mineral oil. Because natural stone is soft, it tends to mark up pretty easily; some of our clients do not like this drawback.
Tile and Concrete: With their unique look, these man-made kitchen countertop options have gained in popularity over the years. They have some of the same benefits as stone (sturdy and heat-resistant). However, you need someone with many years of experience to pull off either of these looks or else there's a high probability that something can go wrong.
With tile, you need an expert tile setter to measure and install each tile. With concrete, there's no space for errors; this is not a job for amateurs. Though it's sure to complement an industrial style, the templating, molding, sanding, sealing and color-mixing process for poured concrete is not always guaranteed to result in the look you want – and it can get pricey in a hurry.
Health Concerns
Because natural stone can emit radon and man-made stones are made with chemicals, we've had clients express health-related concerns. After our research, we've found that these counter materials are safe for use in a kitchen. If you have concerns, check out the manufacturer's published information, where you may find certain products promoted for their safety.
The Bottom Line
To sum up, don't make the mistake of minimizing the complexity of what's involved with selecting kitchen countertops for your project. In addition to how the products are made, they need to be fabricated and installed correctly. Someone needs to watch over this entire process carefully – that's the responsibility of your general contractor.
Personally, I like granites and quartzes, though I've seen products that appeal to me across the spectrum. My best advice is to talk to the manufacturer or fabricator at length about their process before you purchase their product or hire them. In other words, get to a comfort level so you can feel confident with your choices.
A final word: when it comes to kitchen countertops, bigger fabricators/installers are not necessarily better at what they do. Often times they still make a lot of mistakes and lack quality control. If you're in the market, my recommendation to you is to work with smaller, hands-on, boutique-type firms who have the ability to fully explain their measuring techniques and fabrication and installation process and back it up by the quality of their product and work.