Selections are one of the areas over which homeowners have the most control when it comes to their budget. For example, as a contractor, there's not much wiggle room I can provide when it comes to pouring the foundation for your new home, but there are a slew of options and cost-saving measures I can share with you when it's time to make your interior selections; cabinetry is one of them. Here's where you, the homeowner, hold the reins.
In this blog, I'll address the three types of cabinetry options you should be aware of and highlight the advantages and disadvantages of each. By the way, this applies to all rooms of the home, not just the kitchens and bathrooms.
I have also asked veteran cabinet designer Carrie Skreens, a kitchen and bath designer at Studio 41 which offers all three levels (stock, semi-custom and custom cabinetry) to assist me by providing answers to the questions most commonly presented to her.
Again, there are three categories of cabinetry for home remodeling or new construction:
STOCK CABINETRY
This is going to be the most economical option for new cabinets; the biggest drawback is that they have limitations. Stock cabinets are pre-made, mass-produced and come in standard sizes and finishes with limited options for accessories, hardware and door styles. Basically, "what you see is what you get" when visiting this section of a showroom. There isn't really much flexibility (ex: "This particular line only comes in the maple wood species and offers three door styles", etc.).
Stock cabinetry can be comprised of solid wood or a mix of wood and composite material. Ask questions. Your contractor or kitchen and bath designer will be able to tell you if the construction of the stock cabinet offering you are eyeing is good. Not all stock cabinetry is created equal!
"Stock cabinets can absolutely be the right decision in certain applications," said Carrie. "While you may not get the full overlay or wood species options, many cabinet manufacturers fabricate quality stock cabinets with deluxe options, door styles, accessories and hardware that appeal to a broad homeowner base."
In addition to its affordable price point, another huge advantage of stock cabinets is their short lead time (available immediately). If your home remodeling project is on the fast track, this could be the smartest choice for you.
Pictured above: A kitchen featuring Georgetown Espresso Maple Stock Cabinets by Kountry Wood Products available through Studio 41.
SEMI-CUSTOM CABINETRY
Since construction begins once your order is finalized, plan on at least one month's lead time or slightly longer for semi-custom cabinets. You have more flexibility when opting for semi-custom cabinetry, and with that brings a need for additional time to fabricate the cabinets to your specifications.
"The majority of our clients choose semi-custom cabinetry for their home," said Carrie. "The main advantage here is tailoring the higher-quality cabinetry to the homeowners' specifications."
Among the nicer features you can select with semi-custom cabinets are:
Larger range of materials with advanced technology used in the manufacturing process (solid natural wood, plywood, particle board and laminates)
Full-extension, soft-close drawers and doors
Multiple door styles
Dozens of accessories
More finish options (maple, dark cherry, espresso, chestnut and custom paint finishes, such as pale white, which is very popular right now, according to Carrie!)
Various sizes to fit your requirements
Ability to customize an accent or focal point in your kitchen, such as your island
Semi-custom cabinets are more budget-friendly than fully custom cabinets. "While the cost is less than custom, we've found that homeowners who choose semi-custom cabinetry appreciate their investment because the end result is a great-looking kitchen with a unique look; it stands out as being something special. You really do have a lot of options when going this route," continued Carrie.
Pictured above: A kitchen featuring semi-custom cabinets by Executive Cabinetry available through Studio 41.
Pictured above: A kitchen featuring semi-custom cabinets by Executive Cabinetry available through Studio 41.
Pictured above: A kitchen featuring semi-custom cabinets by Dynasty by Omega available through Studio 41.
CUSTOM CABINETRY
So by now you have probably (correctly) assumed that custom cabinetry takes the longest to make and is usually the priciest of all three options. Bingo. Those are the two facts that you need to know if this is the direction you're taking.
The main benefits? You have a one-of-a-kind kitchen that was made just for you. By its very nature, custom cabinets are going to be constructed by top-quality craftsmen, are built to the exact specifications of your space(s) and offer countless options with regards to materials, design, finishes, door styles, accessories and interior storage.
This blog was written to provide a very basic look into the three most common types of manufacturing groups related to cabinetry. If there is one thing to take away, it is that there are many options and there is no such thing as "the best product for everyone." It's about your needs and sometimes your needs do not require that you choose the most expensive route. What's more important than the cabinetry is that you are working with a competent cabinet designer (hopefully part of a design/build team) that understands how to help you narrow down the best solution for you.
For example, you can compromise when going custom by perhaps opting for a simpler door style that will save you on costs without sacrificing superior construction. The style and finish of your cabinetry plays a big role in the pricing. The general rule of thumb is the more ornate, the more cash you'll spend.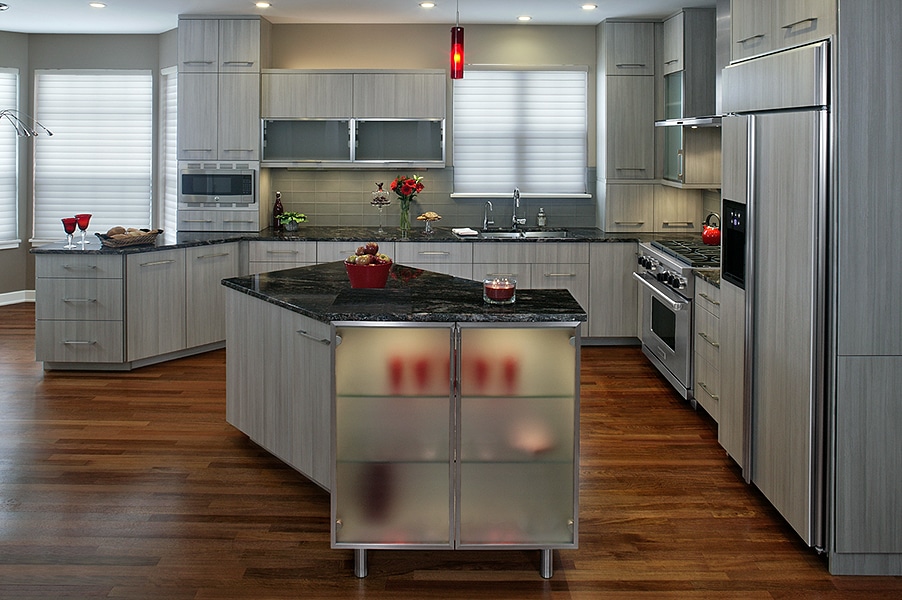 Pictured above: An award-winning fully custom kitchen by Donatelli Builders, Inc. with collaboration from designers Gail Drury and Vicki Ovitt.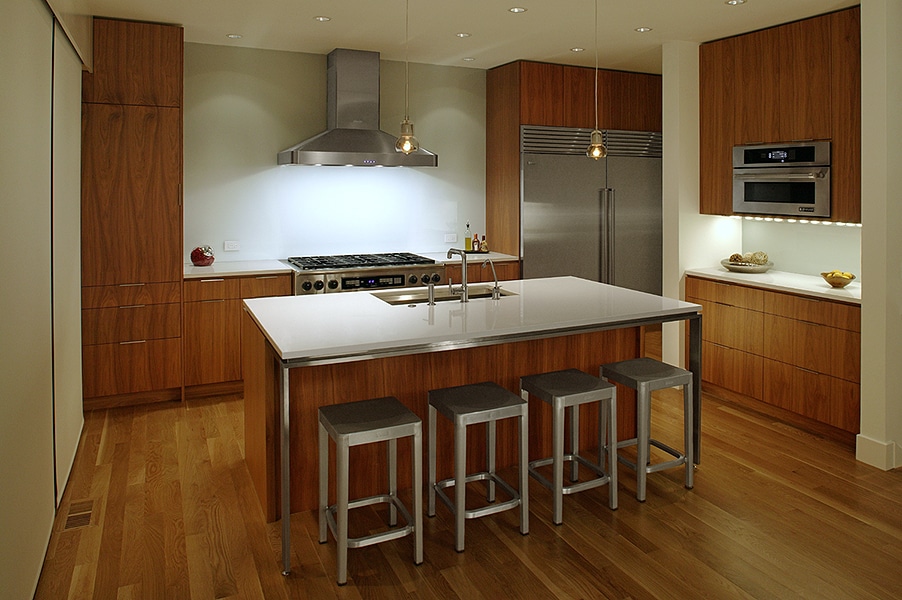 Pictured above: An award-winning fully custom kitchen by Donatelli Builders, Inc. with collaboration from designer Cathy Sparling.
Pictured above: A fully custom kitchen by Donatelli Builders, Inc. with collaboration from designer Peter Harris.
Here are some recent examples of what clients are looking for to complement the finished look of a custom kitchen:
What's trending right now is the luxurious look and feel of walnut interiors for kitchen cabinetry.
Drawers instead of cabinets are more popular today due to their easy access.
Homeowners are focused on storage features. Items such as garbage pull-outs, roll-out trays, pull-out drawers for pots and pans, built-in spice racks, drawer organizers and other interior accessories and storage components are big now.
Contemporary Hafele hardware is a favorite of homeowners due to their stylish look, quality, functionality and durability.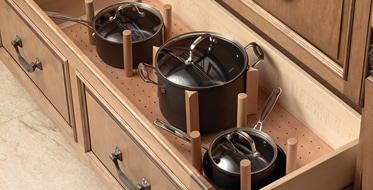 Pictured above:A drawer organizer / drawer peg system in wood by Hafele, which is trimmable to fit your drawers best.
Pictured above: An easy-to-reach base pullout organizer with a door-mountable wire frame from Rev-A-Shelf.
What I presented here are just a few of the basic facts and features of stock, semi-custom and custom cabinetry. Let me know if I can help answer more of your questions!