Extremely cold winters and hot, humid summers … that's just what we get in the Chicago area. Whatever happened to those average 70-degree partly sunny days we're supposed to get in the spring and fall? Well, if every day were pleasant, there would be no need for me to write this blog. But because we live in the Midwest with harsh weather conditions on both ends of the spectrum, I want to discuss the serious matter of choosing the right type of long-lasting exterior trim. Home remodeling in Hinsdale IL means taking our weather into account before embarking on any project. In this blog post, I'll tell you why choosing the right exterior products is critical for the health and security of your home. I'll also address the reason for considering using man-made material versus natural wood when home remodeling in Hinsdale IL or anywhere in the Chicagoland area.
What are the main functions of exterior home products?
All exterior products, including roofing, siding, windows and trim boards, are the last line of defense against water. You NEVER want any water to find its way into the wall or roof cavity of your home. Products need to do more than just look good when they are new; they need to perform the tough task of remaining stable yet aesthetically pleasing while keeping maintenance to a minimum and blocking out moisture from entering the home.
So what happens when exterior products fail? When Donatelli Builders, Inc. receives a home remodeling call in Hinsdale IL relating to exterior renovations, they inevitably start with some type of repair due to failing windows, siding, trim boards or roofing. Once again, the problem is that certain products have failed causing moisture to creep into an exterior finish material. Any issue like this needs to be resolved because it will only get worse and cost more money to repair later. On the topic of money, If you're buying a new home don't forget to check out the competition, save money by comparing conveyancing quotes online. Getting the right conveyancing quote can make or break a house move. You need to make sure you've got enough money to get all the right materials to fix up your new home properly.
These two photos show the type of initial damage you can expect from some exterior products made of natural wood. Obviously they are not doing their intended job of defending your home from the elements! 
Speaking From Experience
Over the past 25 years, the core of our company is, has been and always will be the fact that I am a carpenter first and foremost. We pride ourselves in "all things carpentry." We install our own exterior trim, so we keep our eyes on all the material options available in our industry.
An Introduction to MiraTEC — A good first impression that only got better
We were first introduced to MiraTEC in 2002 by one of our suppliers. MiraTEC, which is produced by JELD-WEN, manufactures engineered (man-made) trim materials, which have the beauty and workability of wood but perform much better! Because we were using cedar and redwood exclusively for our exterior trim at the time, I was reluctant to consider something man-made. I had also seen my share of the failing OSB (oriented strand board) products available at that time and I, too, had a negative association with anything that was not real wood.
My first test with MiraTEC trim was to soak it in water. After several months of checking, I found that this piece of MiraTEC was not affected at all in terms of obvious deterioration or swelling. At that time I decided to give it a try. Read more about the benefits of using MiraTEC products: http://www.MiraTECtrim.com/pdf/MiraTEC_brochure.pdf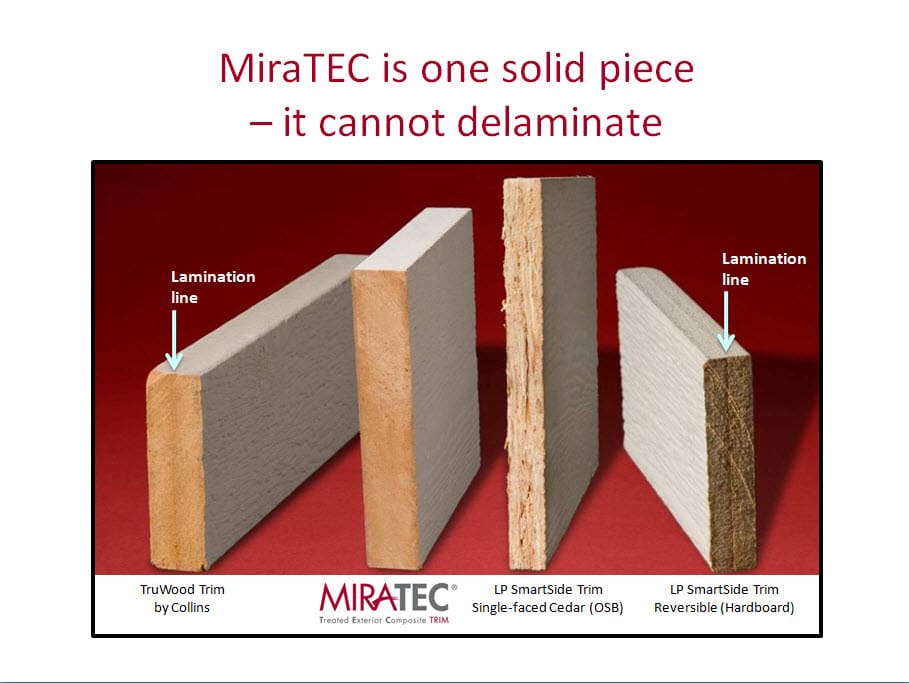 Since 2010 we have done repairs for a high-end Chicago-area painting restoration specialist company called Painting in Partnership, Inc., which specializes in historic restorations where authentic replication is critical. Co-owner Mario Guertin is about the best there is when it comes to understanding how to get longevity and perform the painting process the right way.
We have used MiraTEC extensively when Mario calls us to make repairs on a house prior to him painting. He loves the fact that no one can tell when we replace rotted wood trim with something that will last and hold his paint finish on for many years with no problems. Here's an example of their excellent work below. You can find more on the Painting in Partnership Web site.
Six reasons why we choose MiraTEC (a JELD-WEN company).
As a custom home builder and home remodeling company that does a lot of major renovations involving expertise with exterior trim carpentry, here are six reasons why we have grown dependent on MiraTEC.  
1. Versatility. 
MiraTEC is so versatile that it allows us to be very creative. We do projects ranging from traditional to contemporary and everything in-between. For a traditional application, for example, a smooth finish might be required. If it's a more rustic look that a client wants to achieve, a wood grain finish is ideal. This ability to choose different styles from the same trusted manufacturer is key, and also benefits clients who are home remodeling in Hinsdale IL and all over Chicagoland.
2. Size Availability. 
We often use the thicker 5/4 material over the more common ¾" thickness due to the substantial, heavy look and feel it provides. A great example of this would be with our typical use of 5/4 fascia over ¾" that is more common in our industry. In our current "2014 Project Spotlight", we are replacing all the cedar overhangs with new 5/4 fascia and freeze along with knotty alder soffits and handmade cedar dental blocks. At the time of this blog, we are 40 percent done and the overhangs look amazing!
3. Reduced Cost for Curved Applications. 
Not everything is linear! We often quote custom rounded/curved detailing and MiraTEC works great in these applications. In the past, we would have to go through a very expensive process where we would run approximately five boards through a surface planer (wood planer) to an approximate ¼" thickness. From there, we'd glue and laminate each piece together so we could achieve the desired radius. Using MiraTEC, the material and install cost is reduced between 300 – 700 percent when this type of detail is required. On our "2014 Project Spotlight", we built a rotunda and MiraTEC was the perfect product for that application.
4. Consistency in Quality and Pricing.  
With MiraTEC,we know what we will get EACH TIME. With wood, some is straight and some is not. Some wood has undesirable knots. Because wood is a commodity, the price fluctuates and this can catch us off guard and create surprises for our clients when prices shoot up. Treated exterior composites virtually eliminate these issues.
Wood typically is milled as tall as 11-1/4". In contrast, MiraTEC is made up to 16" tall, which is the right solution when taller band board is required. If you are doing rake details with curved rafter tails, a larger 16" tall piece can be used, eliminating multiple wood pieces. This enhances the aesthetics of an important detail and eliminates shrinkage cracks from separation, water infiltration and premature deterioration. The idea of paying a premium for 16" lengths is also fully eliminated.
5. Durability. 
MiraTEC trim will not twist or shrink after it is installed from drying and sun exposure. It also holds a paint finish better than wood and will not blister and peel like wood.
6. Longevity.  
With all manufacturing products there are generational improvements. In this case you can take the concept of creating a wood composite. This process was started by accident in the 1920s when William Mason left a wood fiber mat in the press overnight. From there, hardboard was born and refined over the years.
One of many major milestones was infusing zinc borate to enhance longevity and prevent termites. Preventing termites before they infest can save you lots of money and stress. However, if you are unable to prevent termites before they invade your home, you may be forced to seek help from a professional exterminator. You can check out something like Termite Control Kansas City if you ever need to effectively eradicate a termite colony from your home. There are many additional enhancements that have come along. I will write additional blogs about all the technical aspects as well as a detailed comparison between OSB, PVC, cement board and the specific technology referred to as "treated exterior composite" that is unique to MiraTEC. If you are not into all the behind-the-scenes advancements, I can simply tell you that we have installed everything — and this product is the best to work with and the best replication of wood at a great value when all things are considered.
Feel free to browse through our extensive portfolio of exterior facelifts, renovations and new construction in the work gallery of our Web site, where you can see many different ways to use this product, and call me if you have any questions.