(Part two of a two-part series)
In my blog post earlier this week (May 5, 2014) titled "Home Remodeling with Kids? Include a Professional Organizer!", I told you what a professional organizer is, what services they provide, the benefit of working with one, and why their expertise really matters, especially when you have children and are planning a home remodeling project. The main take-away message from my first blog post on this topic is that your design/build team should definitely offer the option to include a professional organizer when appropriate because they provide great value, suggest creative organizing solutions, save you time, help you avoid stress, and assist in maintaining life as normal as possible before, during and long after construction ends.
If you're in the Chicagoland area, we have that covered for you. We work with an outstanding credentialed professional organizer: Patty Wolf, owner of StuffBusters. She's done great work for our clients; she's truly an expert in this field whose efficiency, smart planning and customized organizational systems provide the solutions homeowners need. As with most trusted POs, Patty will also teach and transfer basic organizing skills to you in manageable steps – it's part of the package.
Patty is always willing to share her thoughts and expertise with us because she truly loves helping people. Recently, we talked about the spaces that most homeowners find difficult to maintain, which prompted me to write this blog. Today, I'm going to address the top five areas in the home where a professional organizer's help will make the biggest impact in your everyday life – especially if you have kids!
You can make every effort for your home to look great aesthetically, but it must also function well! Remember that a professional organizer should be brought on board when your design/build team is being assembled; their input during the initial design phase is critical. Don't wait until your home is already under construction to think about organizing principles.
PRE-CONSTRUCTION PHASE: DE-CLUTTER AND PACK UNNECESSARY ITEMS
Whether you're going to stay in your home during a remodel or you're going to relocate, start thinking about minimizing clutter before any work begins. According to Patty, it's helpful to take the old adage to heart: "less is more."
Prior to construction, take the following measures so your children can feel comfortable throughout the duration of the project:
Help each child choose his/her 15 favorite toys, games and puzzles.
Give these selected items a temporary "home" during construction, incorporating colorful baskets, bins or boxes, and storing them in an area where the family spends their leisure time.
Remove and store excess toys that will not be needed during the construction phase.
Children can help wrap and pack these items into labeled bankers boxes or bins and store them in an out-of-the-way space. It's an exciting day when the remodel is complete and the children unpack their forgotten toys!
DESIGN PHASE: SPACE-PLANNING WITH A PROFESSIONAL ORGANIZER
It's smart to have input from your professional organizer on the front end of your remodel. The PO will get to know you and your lifestyle so they understand how you use your space. From there, they will space-plan and design organizational systems within the room.
The PO has insight into how these systems should be designed. Once built and installed properly, the organizational systems will have a tremendously positive effect on your daily quality of life. Ideally, you are able to maintain these systems on a regular basis. Because you'll be more organized, you will have more time to do the things you love to do: spend time with family and friends and get back to your hobbies ("me" time – remember that?).
TOP FIVE SPACES IN YOUR HOME THAT NEED A PROFESSIONAL ORGANIZER
Planning Desk
Mudroom / Laundry Room
Family Room
Play Room / Toy Area
Bedroom Closets
1. and 2. PLANNING DESK and MUDROOM / LAUNDRY ROOM
Did you ever look at the (several) piles of papers in your kitchen, home office, mudroom, bedroom or anywhere else and say, "HELP!" How many times a day or a week do you stress because you can't find Johnny's baseball game schedule, Janie's calendar of upcoming dance recitals, an important bill that's due, your personal "to do" list or that shopping list you started but didn't finish? It's because you don't have a professionally built and organized central planning desk for your home.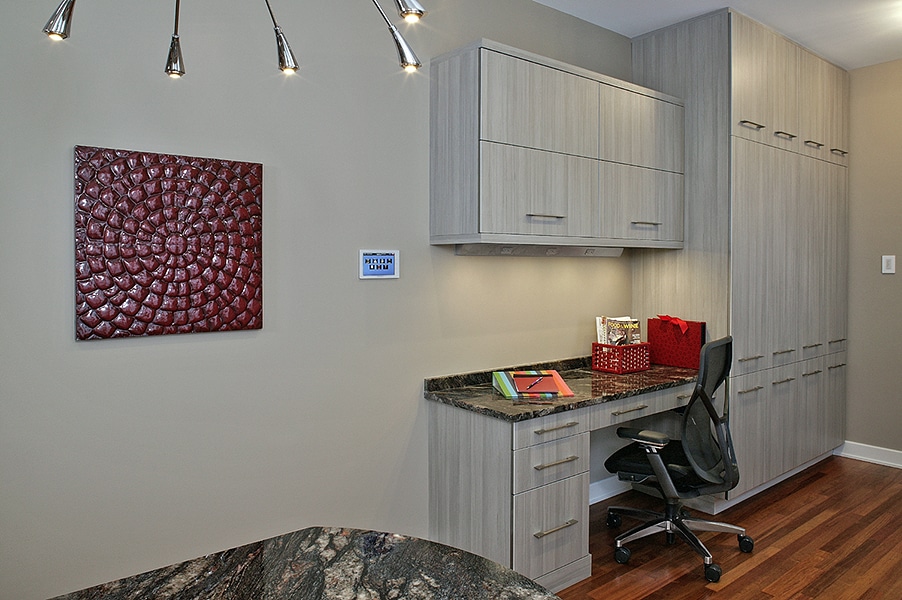 Pictured above: A central planning desk located next to a mudroom area of a recently remodeled townhome by Donatelli Builders, Inc. This is the family's main entrance area where all of the family's gear is stored, in addition to their calendar of school and extra-curricular activities, bill-pay documents, shopping lists and more.
Let's look at three key features here:
Open (no-lid) desktop filing system. StuffBusters' Patty Wolf recommends using a container with no lid that allows for hanging files. Why? Simply because removing a lid is an extra step you would have to take every time you need to access your files. Your files can be color-coded, too (example: red for urgent bill-pay items, blue for school paperwork, green for sports, etc.). Remember where everything is filed by using a "file index" as a roadmap for your filing system.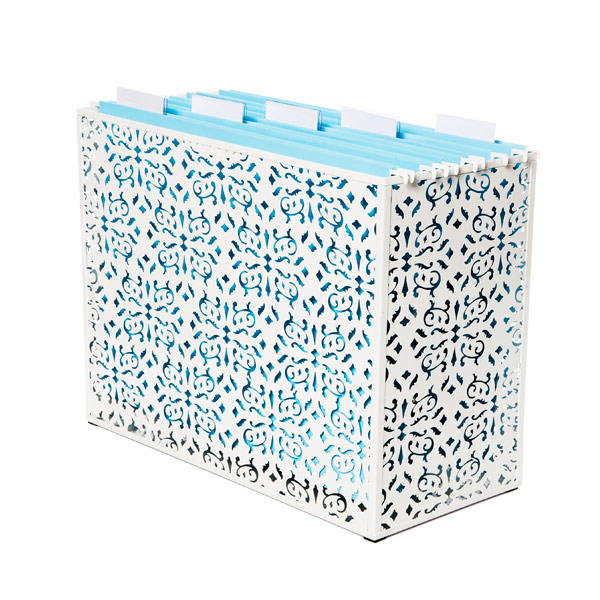 Pictured above: The Brocade Desktop File from The Container Store, perfect for your home's central planning desk. 
Plenty of storage space. This is not your mother's mudroom!  These contemporary frameless custom storage units in the project above feature a combination of drawers by the desk and cubbies with hooks next to the home's entrance (not pictured). Installed in the storage cubbies are large and sturdy hooks for the kids' backpacks.  Patty recommends installing hooks at a height where young children can reach them to encourage them to follow rules and hang their jackets and bags daily.
Ample Lighting. Never forget how important lighting is when you're working and staying organized! Your design/build team at Donatelli will lead the way in creating an electrical plan with ample task lighting.
Our remodeling experiences over the past 25 years have been that the laundry room is the most "under-designed" space in the house. For more mudroom/laundry room organizing ideas, check out our previous blog titled "10 Things Every Mudroom Should Have".
 3. FAMILY ROOM
After the kitchen, this is the room where your family is most likely to spend the bulk of their time. The best solution for this area is low built-in cabinets with doors. Doors are critical. If you can see clutter, it creates more stress. Parents know they must constantly keep their little ones occupied, and they also know that the kids love to play where mommy and daddy are. 
Pictured above: The focal wall/media center of a small family room by Donatelli Builders, Inc., which features easy access, custom (low) built-in storage units for mom, dad and the little ones. To maximize space and efficiency in smaller homes, consider building multi-functional cabinets that double as benches for extra seating. 
Accessible (low) cabinet space with doors, drawers and shelves is a great organizing solution for toys, puzzles and games. Keep the kids' most-frequently-used items here.
Your media center also needs to stay organized, so make sure your design/build team constructs generous space for books, DVDs and electronic gaming.
Taller built-in cabinets are useful, too. For supervised play, such as art supplies or puzzles that have a lot of pieces, Patty suggests storing these items in higher cabinets.
Finally, if you can get the majority of the toys in another room (a playroom in the lower level, for example), then it minimizes the disaster in the family room. This brings me to point number four …
4. PLAY ROOM/TOY AREA
I don't mean to repeat myself, but I do want to further underscore the benefit of low, built-in cabinets with doors, drawers and shelves for any play room or toy area. Trust me: you'll thank us for this idea over and over again. 
According to Patty, parents are modeling for their children when it comes to habits, and that includes cleaning up and maintaining a room with some semblance of order! Moms and dads need to first teach children how to maintain organization, and second to support them in this effort regularly so the entire family reaps the rewards of staying organized. Built-in cabinets will help accomplish this top priority.
Additional recommendations include:
Avoid toy boxes. Toy boxes are losing popularity because eventually they become a catch-all and dumping zone. They're not recommended unless there's only one of the same category of toy and it's clearly labeled, such as "stuffed animals."
Use clear containers. With clear containers, such as the European Commercial Crate from The Container Store, your children will be able to see the different things that are stored there without having to make a guess. 
Pictured above: Small European Commercial Crate from The Container Store
Build or purchase cubbies. Just with mudrooms, cubbies are very handy for organizing – and displaying – toys. If your son's favorite airplane is stored in a cubby where he can see it and reach it, he'll play with it, then put it back in its rightful place when he's done (in theory, anyway)! 
Clear bins and dividers. Choose bins that can be either be stacked or wall-mounted to avoid clutter gathering on the floor.
Pictured above: Clear AkroBins and Dividers from The Container Store
Create an "arts-and-crafts" zone. One of the first tenets of organizing is this: store things where you use them. Designate a zone within the play room just for arts and crafts. Ideas include a child-sized easel and table, in addition to taller built-in cabinets with doors to store art supplies.
5. BEDROOM CLOSETS
You can have a huge closet built, but if it lacks a good foundation/design, you will not be able to maintain organization in this area. Kids' bedroom closets need to have the following features:
Two shoe racks: higher rack for off-season shoes or occasional use, plus a low rack for frequently worn items.
Two clothes rods: higher rod for their off-season clothes, plus a low rod for their in-season clothes.
Low drawers or very easy-to-open metal mesh (see-through) drawers for items they access frequently.
Storage/open nooks for accessories (ex: jewelry/hair accessories for girls; hats and baseball socks for boys).
Pictured above: A well-designed children's closet for siblings sharing a space, published in Better Homes & Gardens.
Call Donatelli Builders, Inc. at 630-289-9981 if you're ready to make 2014 the year you finally remodel your home in an organized fashion!