(Part one of a two-part series)
It makes no difference if you have a brilliant mind, are successful in business, or run a super-tight ship at home: from time to time, we all struggle with staying organized. It's not taboo to admit this! Go ahead and say it out loud. It's OK. Sometimes this is most evident when we take on major projects, such as a whole-house remodel. "When did we acquire this much STUFF?" and "Why did we let this area get OUT OF CONTROL?" are two questions we find ourselves asking all too often.
According to Smead.com in an article titled "The Disorganized Truth: The Hidden Costs of Disorganization", being disorganized takes a heavy toll on our wallet, mood and energy level!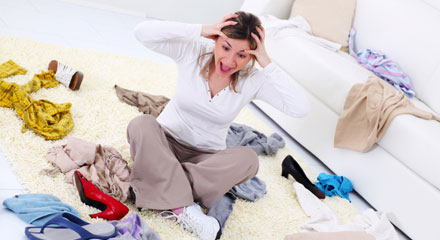 Photo courtesy of Smead.com
Now throw into the mix your kids' toys, gear, games, school work, arts and crafts supplies, and books, and – well – you have yourself a ton to manage on top of your own busy lives and possessions. Here's the good news: THERE IS professional help available to you to ensure you dig yourself out of a disorganized mess, and THERE ARE measures to take when planning your home remodeling project to assist you in becoming – and staying – organized.
Let's talk about remodeling when you have kids. If you're the kind of person who's concerned with getting every aspect of it right, there's no doubt in my mind that a professional organizer should be a part of your collaborative design/build team. Have you ever thought of this before? Did you even know that such a person existed? They do! I've seen firsthand the undeniable value and contribution they bring to the team because my clients have worked with them before with an immensely positive impact.
In this first part of a two-part blog series, I'll tell you what a professional organizer is, what services they provide, the benefit of working with one, and why their expertise matters a great deal. In my "Part 2" blog post later this week, I'll give you a list of the top five rooms in the home where a professional organizer's help will make the biggest impact in your family's everyday life, so come back to read that one, too.
What is a Professional Organizer (PO)?
According to the National Association of Professional Organizers, these organizational specialists help people conquer the clutter and chaos creeping up on them and aid in bringing order and efficiency to homeowners. Good summation. The backgrounds of POs vary greatly, but look for an individual who is a part of NAPO, has several years of experience working with homeowners, and whose specialty includes space planning, moves/relocations and/or closet design/organization. Also note that some POs work with businesses, not homeowners.
Services provided by a professional organizer include, but are not limited to:
Custom design of organizing systems and filing systems for various areas of the home (everything from clothing and accessories in closets to personal finance management).
Space planning (different than architectural / interior design space-planning): Design rooms and storage spaces that are most efficient for families.
Estate organization.
Management of all paperwork files.
System development for photos/memorabilia storage.
Specifically for remodeling, a professional organizer can do any/all of the following services:
Evaluate your needs and help ensure that efficiency is part of your overall plan (your architect and interior designer will be of little help here)
Recommend built-in features essential in critical areas of the home, especially where younger children are concerned.
Suggest "must-have" products and create custom systems for your renovated space that will assist you in staying organized.
De-clutter your home prior to a remodel, which also includes selling, donating and purging items. From there, they'll help sort and store your remaining possessions.
Pack essentials for a relocation, if that is needed in your case.
Label existing materials and determine everything's "proper place" within your newly remodeled home.
NOTE: POs are not like moving companies; they're more important than movers! Everything they do makes sense and has an order to it so that when you are in your new space, there's no question as to where all of your "stuff" will go.
Benefits of consulting with a professional organizer
Consult with a professional organizer once and you'll be telling your friends all about it for the rest of your life.  I know that will be the case.  We've worked with Patty Wolf, owner of StuffBusters, and we have seen her expertise make a substantial impact on the overall design and pre- and post-remodeling phases.
"Areas within your new space have to function very well. By getting to know the family and their lifestyle, a PO can contribute creative, functional ideas for organizational features during the design phase of your remodel," said Patty.
Patty Wolf, CPO-CD® Owner, StuffBusters
She continues: "Prior to construction, a PO will help identify everything that needs to be easily accessible, and she'll set up organizing systems for those specific items so the family can function successfully during the remodel. Items that are not needed during the construction phase will be packed, labeled and stored in an out-of-the-way area.
You can also spend more time thinking about the small specific things for your family, will you replace your old mattress with a new memory foam mattress? Do you want to keep your coffee table? Is it time for a sort out in the kitchen? All the little things that will make your home perfect.
Once construction is underway, early planning with a PO will help the family experience the least amount of stress and disruption in everyday life. Our goal is to make adequate preparations so the family can continue to function as close to 'normal' as possible."
Expertise
Just like you wouldn't have your brother-in-law fix your plumbing because he's "good with pipes," you shouldn't make the mistake of thinking you can organize everything properly yourself because you're someone who stays on schedule and has checklists. That only goes so far. You may be able to focus on one area and handle that well, but are you qualified to know what organizational systems stand the test of time throughout the home? My point is that there's significant VALUE in hiring a PO.
I would also like to add here that a professional organizer is a sub-specialty for remodeling and new construction that is not necessarily the strength of an architect, interior designer or a contractor. All of us have limitations: delegate the really important stuff to the experts so you ensure that you get the best results. That's a fact. If you work with someone who is polished, experienced and knows what they're doing, it takes the stress off of you. They will present you with solutions that you would not have thought of on your own!
The bottom line is, what is your time and sanity worth to you? Including a professional organizer in your design/build team ensures that you'll live comfortably through the remodel as well as enjoy the efficiency of your home for years to come.
Read Part II of this blog topic here!