Five tips to ensure your kitchen remodel is done with top quality that stands the test of time.
I recently read that the lifespan of the average house is 100 years or longer. Within this 100-year-average, there are many designs, materials and products that vary in terms of a lifespan. For example, a typical asphalt shingle roof may last 25 years but the structural steel to hold up the house NEEDS to last for the entire lifespan. 
When building or remodeling a home, I encourage people to place a high emphasis on creating a long lifespan and make decisions with this in mind. So what I will discuss in this post is how to attain longevity out of your remodel, renovation or new construction project.  Because this is such an important issue, I will do my best to break this down to five points that seem to play a direct role in the lifespan of a project that go beyond long-lasting product choices. I also found some adages that apply to make this memorable and to drive home these important points a little more.
I can assure you that I have had my share of fixing botched-up building projects that cost the owners upwards of $100,000. As a matter of fact, I was just recently hired to assist an owner of a 6-year-NEW house; I am helping him identify structural failures and providing a plan of attack to make the repairs. We will need to hire an engineer and the work will require opening walls, ceiling and floors to expose the substandard framing. Depending on what we find, we may have to install new structural beams to replace what has failed. After the structural work has been completed, we will then be required to refinish hardwood floors, replace interior doors, windows, trim and paint all areas so they can move back in.  It is too early in the process for me to know the cost, but this is not going to be inexpensive and it will not be without inconvenience for the owner and his family.
So how did this happen? How often does this happen, and how can you learn what you need to know to make sure this does not happen on your project?  
Very often and to different degrees do I get called to remodel homes shortly after being built. In addition to the 6-years-NEW house I mentioned above, we have another current project that we are remodeling that includes replacing all of the 13-year-old Pella windows and giving the home an entire exterior facelift.
This past January, we finished the complete remodel of a 5-year-old town house in Schaumburg, IL (do you see a pattern yet?). When I say complete, I mean we gutted the entire unit from the basement to the roof! At the beginning of this month, we received a 2014 Chrysalis Award in the highly competitive category of kitchen remodel between $75,000-$100,000 for this project. Our design/build team included kitchen designer Gail Drury, CMKBD, of Drury Design, and interior designer Vicki Ovitt. As a TEAM we guided the owners through a systematic process. I would like to share some of the steps that should be part of each and every building project to promote longevity.
Five tips to create longevity on your new construction, remodeling or renovation project
Step 1: Make sure there is a single source of accountability.
"You can't win a race if you bet on the wrong horse." 
-American Slang
There is a reason why every championship sports team has a great head coach. Every top business has a brilliant CEO, and the superior orchestras have preeminent conductors. Owners of professional sports teams pay their athletes millions of dollars a year and they are the best of the best of the best; so why do they need a head coach? Because a sports team (and every one of my other examples) requires that many people be managed to ensure a successful outcome. Your construction project is no different! Every successful project has at least a very good leader that assembles the team, sets the bar for quality, determines the protocol for communication, creates the schedule and ensures that the deliverables are provided as promised. None of the above tasks are easy so "make sure you pick the right horse." There is no perfect way to do this but here is a good suggestion: Make the selection of your contractor as if you were picking a surgeon to do laser surgery on your eyes.
Would you start the surgical selection process by getting four bids on your surgery? Would you tell the surgeon that you want him to use your anesthesiologist and your surgical assistant so you could try and save money?
I think your questions would be more like the following:
What are you going to do to ensure that my surgery is successful?
How many patients have you treated with my condition?
What are you going to do to make sure that this does not cause excruciating pain?
What special training do you have and what techniques do you use that will produce a better chance of success?
Folks, if you are not willing to take this one seriously, you do not need to waste your time with steps 2-5 because chances are good that you will pick the wrong horse! In short, approach this like I have suggested above and you are on your way to winning the Kentucky Derby (or at least placing).
Step 2: Get Clear on the Needs.
"A problem well-stated is a problem half-solved."
-Charles Kettering 
Each and every mid- to large-scale project we do starts with a comprehensive needs analysis. One of the most common pitfalls that I observe is that many clients do not place enough focus on the "wish list." They start to take on the technical challenges (how do I move this wall/I think I need to bump this out two feet) and this is where I ask them to focus 100 percent of their energy on their wish list. The Donatelli Builders, Inc. comprehensive needs analysis includes some "must have" and "would like to have" items listed as simple bullet points. For our case study — "Schaumburg Kitchen Remodel" –the following were some of the homeowners' items for the kitchen and surrounding spaces:
Partial List
Must-Have Items:
Improve the range exhaust that does not work very well
Range/oven is too close to sink cabinets and it is hard to open the oven door; there is no room to work
We can't use the island for much storage. We are OK altering the size and shape
No storage for common appliances used on a daily basis
Provide additional storage in laundry room
Cabinets are low quality; shelving and hardware is falling apart
Would Like to Have Items:
Work center with keypad for home automation if possible
Improve "welcoming qualities" for guests entering from current laundry room
Upgrade all appliances to make cooking more enjoyable
Improve the lighting
The above list is simple but tells us the basic priorities of the owners. Most of the items on the owners' list were simply the result of poor design. The original developer installed these superficial items: "granite tops, mid-grade appliance package and cherry cabinets" but proper design principals were not used and, as a result, the lifespan was reduced to less than five years. That's shameful.
Step 3: Put the right design team together for the project.
"A chain is as strong as its weakest link."
-Ancient Proverb
I do feel that any mid- or large-scale project requires a team to be successful.  When there are kitchens, baths or laundry spaces involved, I always bring in a kitchen and bath designer because of their in-depth understanding of how to achieve a functional plan. For this kitchen, I felt that Gail Drury of Drury Design would be a great fit. Gail went right to work by carefully reviewing the wish list and walking the clients through a 10-page questionnaire to fine-tune their family's needs. She then developed four preliminary floor plans with completely different ideas in each.After some brainstorming with the team, a combination of the four plans was chosen, incorporating different elements that were most important to the owners.
Because the kitchen and new mud room were to be part of a cohesive overall design, interior designer Vicki Ovitt created and presented several groupings of door styles, counters, plumbing and electrical fixtures, paint colors, etc. This collaborative team approach guaranteed that there were no design voids or design overlap: two common pitfalls when working on larger projects.
One major benefit to clients of Donatelli Builders, Inc. is that we are guiding them through the entire process and are ultimately the single source of accountability to them. We work diligently to assemble the right team for every client based on their unique needs; there is no "one size fits all" mentality with the skills and style of architects and designers, which is how some design/build firms operate.  The design process must raise questions and provide solutions for the owner to fully evaluate. When this is done right, the clients get their needs addressed in ways they never would have thought, and this increases the design lifespan.
Step 4: Time to evaluate.
"Look before you leap."
–Aesop's Fables
Look before you leap in this context is the process of going through what I call the cost-verses-value analysis. It is a critical step that adds another layer of depth to the design phase. In steps 1 and 2, the needs are evaluated and the design options are presented. If you are like most of my clients, you are going to want to spend your hard-earned money on the features that are the most important to you, and this means that pricing options need to be on display so you are in a position to make educated decisions.
Most designers do not know what it costs to demolish and construct spaces and that is why I sit in on all the design meetings. I take a very proactive approach by creating the proposed scope of work and creating detailed RFQ "request for quotes" for all specialty vendors as early in the design process as possible. As the design evolves, I alter cost estimates so the owner has more of a "real-time" experience. This also eliminates what the industry calls "allowances" and replaces them with fixed-cost, specified items.
In my business, I am completely transparent so the client is in the best position possible to understand and control costs. It is important to note that completing product selections and price approval before construction starts improves cost control, reduces stress and allows materials to be ordered so down time for products can be eliminated. This has a substantial effect on longevity because the likelihood of a rushed decision that you will quickly tire of is significantly reduced.
Step 5: Realize your critical role as the client.
"It takes two to tango."
-American Proverb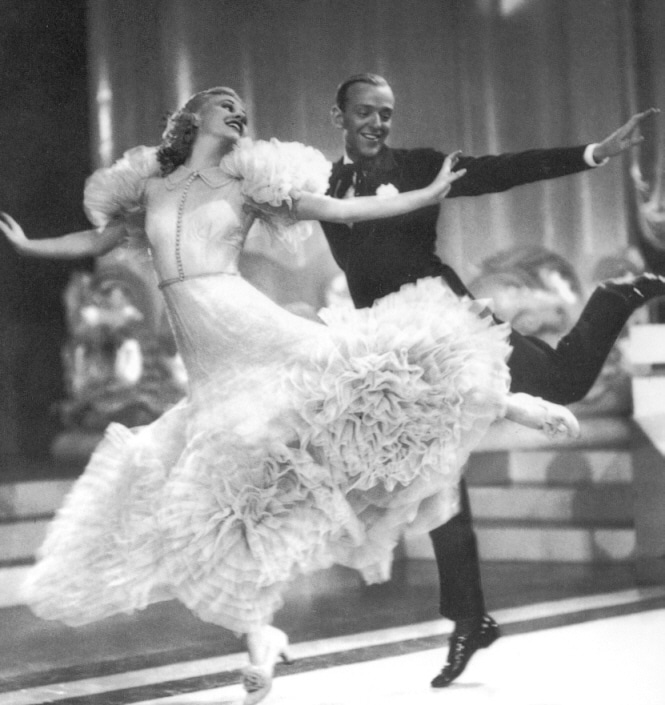 I like to think of an owner and contractor working together as a dance. You have to be listening to the same song and your moves should be in sync. Assuming that you followed steps 1-4 above and found a great contractor, you will have to be a good dance partner.
Make owner-required decisions according to the schedule so work does not come to a halt because materials are not available. Make progress payments on time so the vendors get paid promptly. These are just two examples but these are things that you control. Building and remodeling is one of those experiences in your life that will require that that you work very closely with someone. Just be aware that even a "Ginger Rogers" will not perform well with a "not-so-good" partner.  BE A STELLAR DANCE PARTNER ON YOUR PROJECT!
OK. I hope that I have brought some of the "not-so-obvious" suggestions to the table for you to consider. Now I would like to show you the contrast between what the owners had, and what our team was able to help them create: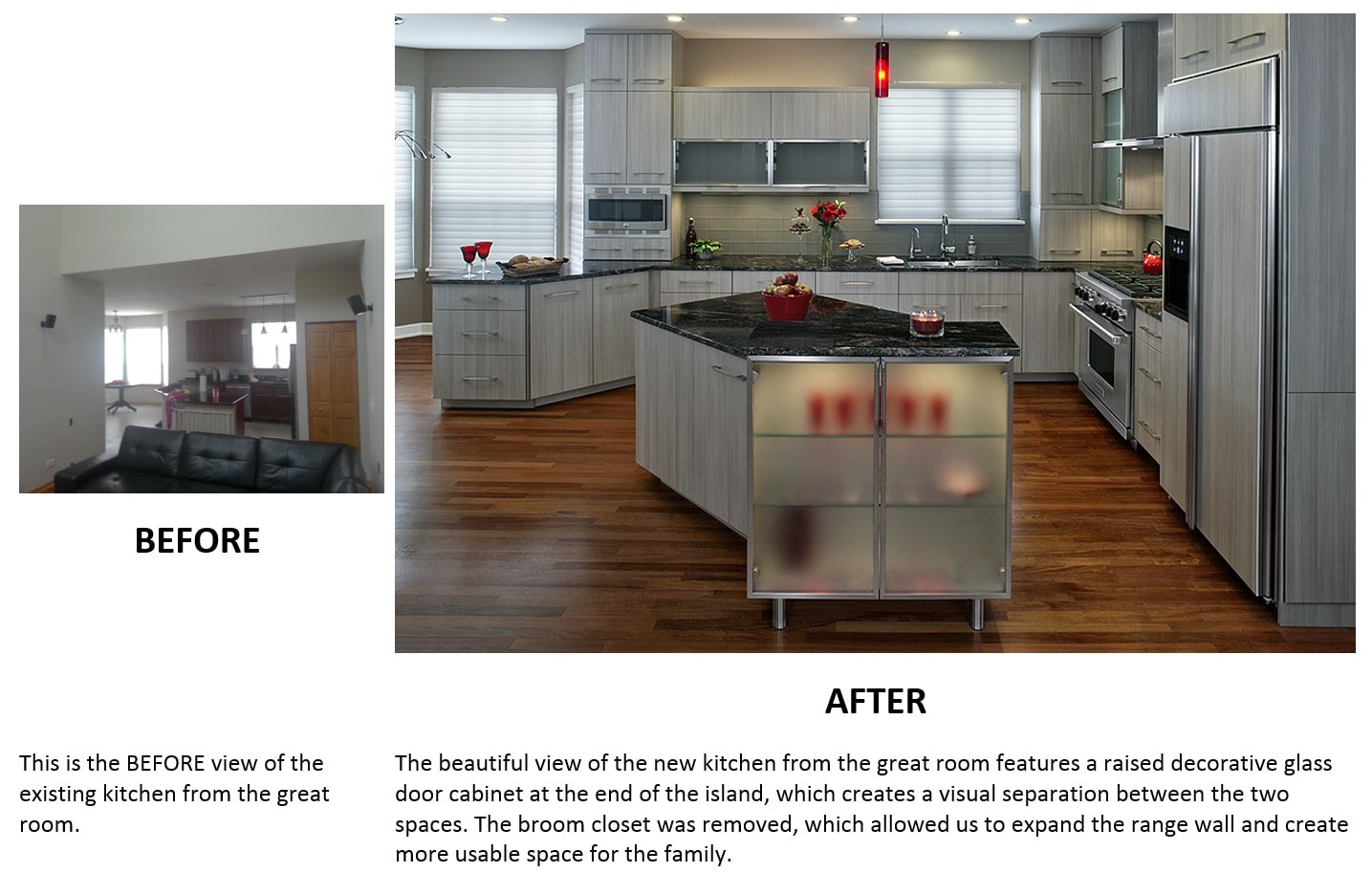 New Island
Our team designed and re-positioned a new multi-level functional island with a terrific appearance from the great room. The island features a raised decorative glass door cabinet at the end that creates a visual separation between the great room and the kitchen. The island is also equipped with large drawers and roll-outs to maximize usage. The unique shape of the island adds a real nice focal point as well.
New Electrical Throughout
We designed and installed a state-of-the-art lighting and electrical plan. A new lighting plan was created, which includes a combination of dimmable LED recessed cans, modern-inspired hanging fixtures with a chrome finish, under-cabinet lights and continuous plug strips to be sure that there is adequate task lighting and accessible electric without disrupting the glass wall tile with outlets.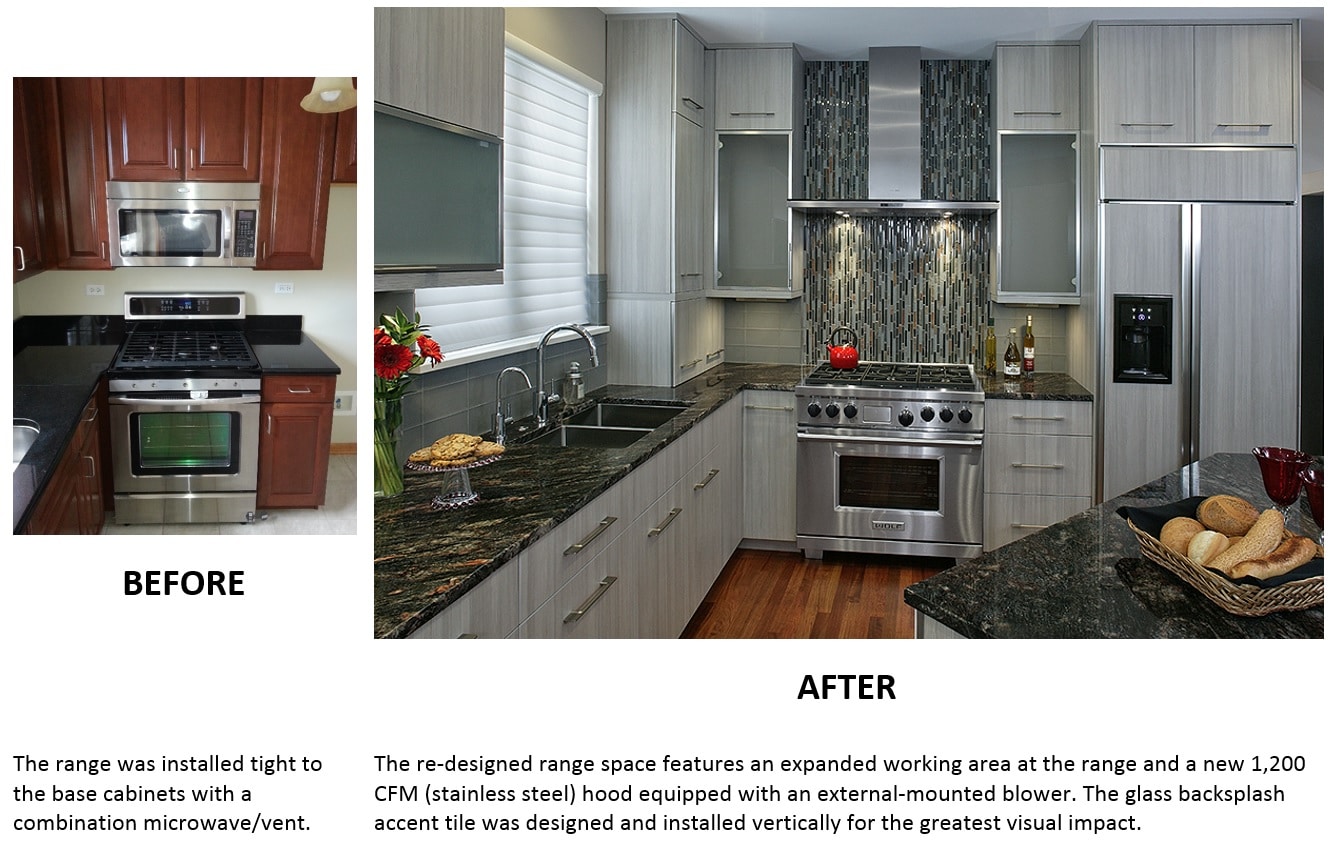 Range Space Transformation
We improved the range space by removing the broom closet to begin. This expanded the usable space for the cabinetry and refrigerator, while providing a much-needed space between the range and sink base cabinets. The new range wall includes a 1,200 CFM external-mounted blower with a new decorative stainless steel hood. Vicki's talent and attention to detail made possible this "wow-factor" as the first impression of the range wall. The "Bliss Mosaic" glass backsplash accent tile by Virginia Tile was designed and installed vertically for the greatest visual impact.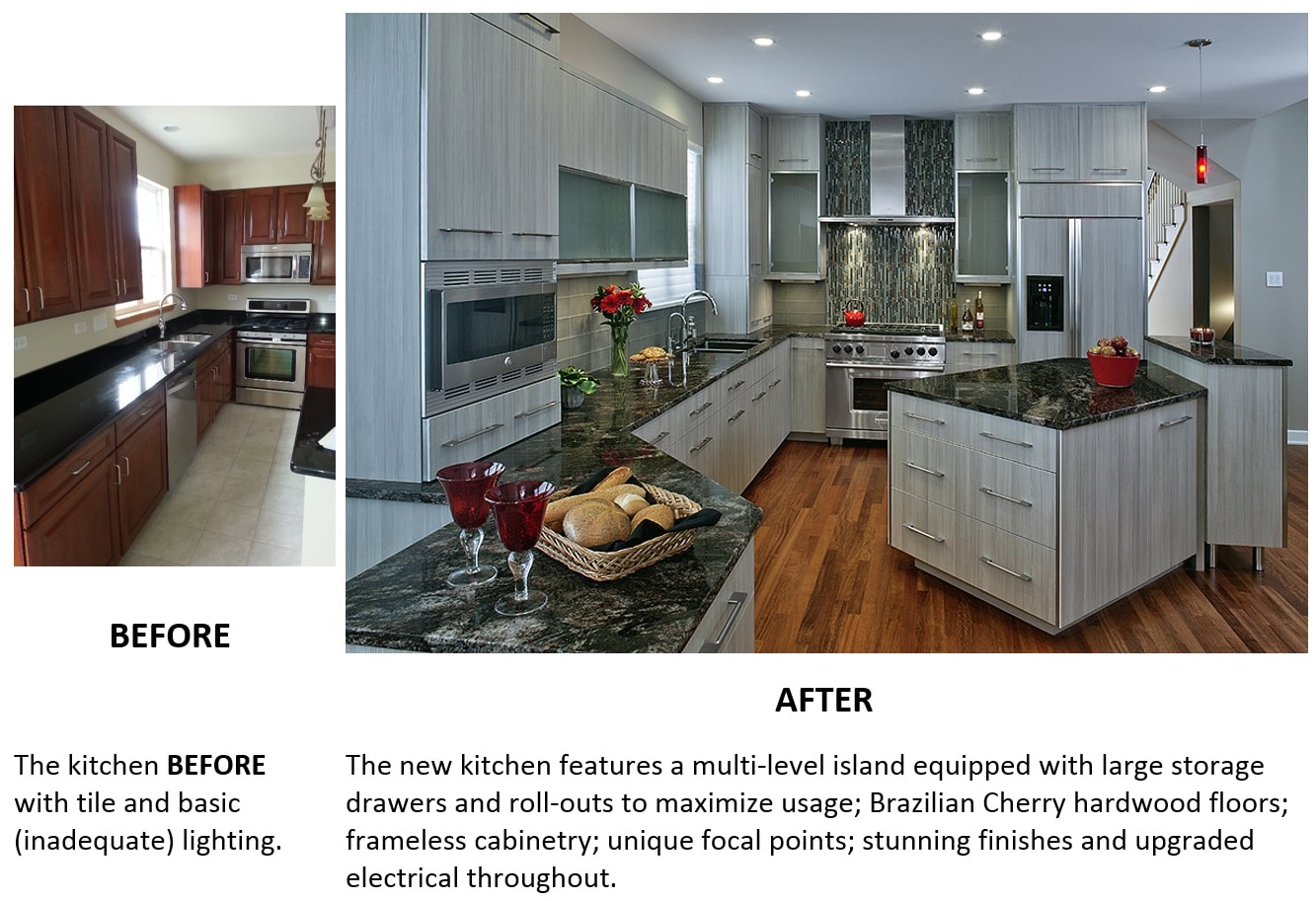 Frameless Cabinetry
We designed and installed contemporary frameless ("European-style") custom cabinetry. We chose Ovation "Focus" frameless cabinets with a white brushed aluminum thermofoil finish (some with frosted glass) and Hafele hardware. Space-saving and having a visually cleaner, more open look are just two of the benefits of these sophisticated cabinets. The thermofoil finish is low-maintenance, moisture-resistant and incredibly durable. The vertical graining and horizontal positioning of the cabinets are nicely complemented with the vertical lines in the tile backsplash behind the hood.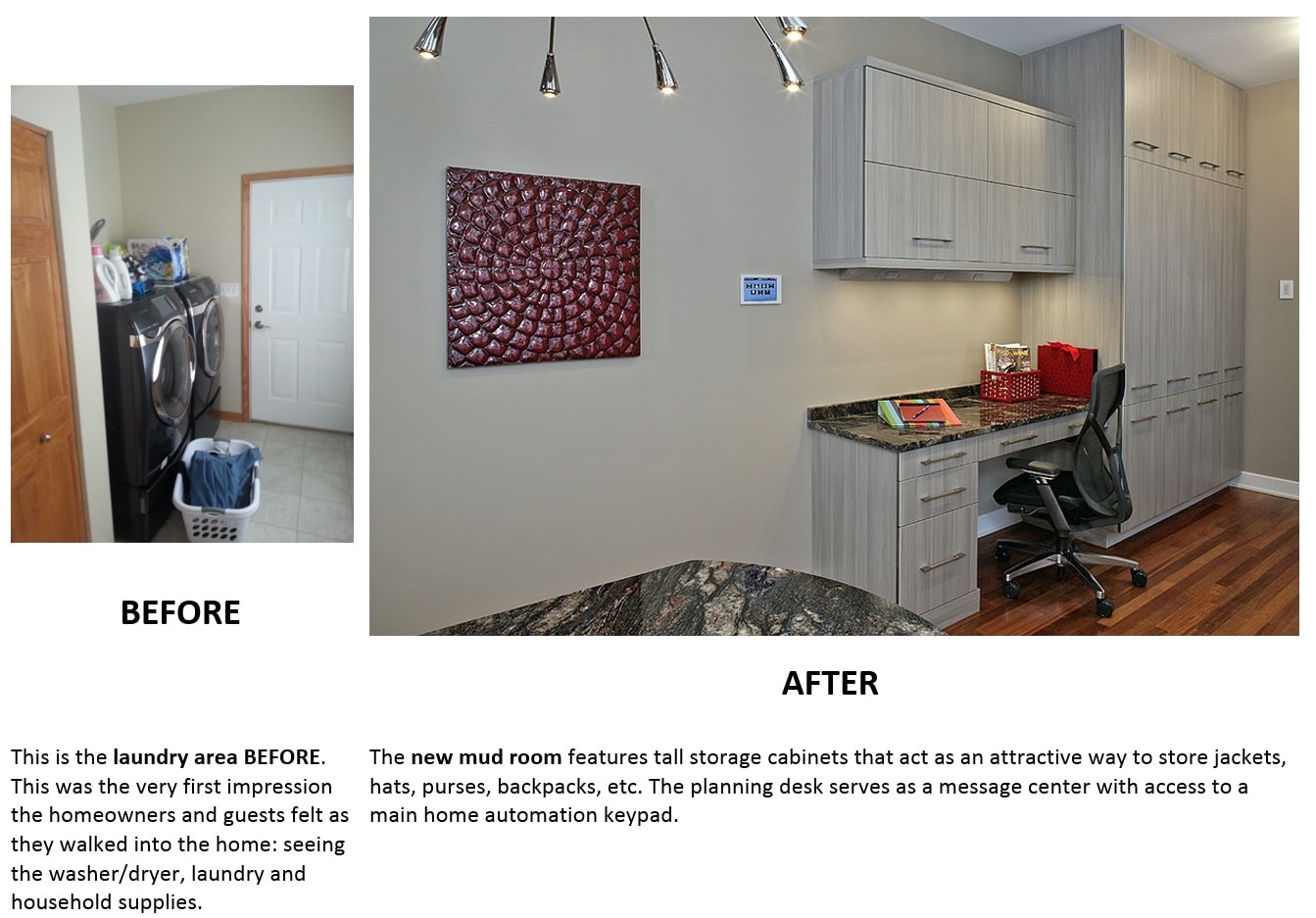 New Mudroom and Central Planning Desk
The new mudroom area features custom storage units with a built-in desk and message center. Look at the difference (above) of the new "first impression" the homeowners and their guests get when they walk into the home.
RESULTS
The kitchen improved in every way, and its lifespan is now interminable. The function of the space was immensely improved. A small one-cook kitchen is now a two-cook kitchen that accommodates the needs of this young, active family. They cannot believe how much their daily lives in this area have improved!
The aesthetic design transformation is phenomenal. It went from a bland, ill-conceived space with common finishes to a sleek, custom contemporary masterpiece featuring European-inspired minimalistic, clean lines with beautiful finishes and carefully selected top-quality appliances, such as:
For you, what we hope you'll come away with is that "can-do" attitude if you are faced with a similar situation as our clients were. If your original builder had a blatant disregard for design principles, cut corners and left areas of your home that aren't suitable, the right design/build team can solve problems for you and make your space functional and attractive, all while achieving longevity. This approach presents your home with a darn good chance of reaching its 100th birthday proudly. Give us a call if we can help.