One thing Chicagoans and suburbanites can agree on is that we definitely have weather extremes. While we're thankful for the fact that we don't live in high-risk parts of the country such as tornado alley in Oklahoma, we do have our fair share of tornados, high winds and severe weather threats. Have you considered building a "safe room" in your home to guard against these dangers? We're wrapping up a whole-house remodel in the western suburbs for a family who included a safe room in their basement, so this topic is fresh on my mind.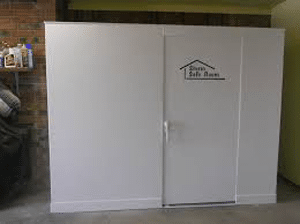 Purpose of a Safe Room
Safe rooms, also called storm shelters, give your family a secure place to go in the event of a weather catastrophe, severe storm with extreme winds, or if a break-in occurs. They protect your family in the short term from imminent danger like flying debris or an armed home intruder. Because a safe room can withstand high winds of up to 250 miles per hour, you and your loved ones will remain safe even if your house falls apart.
Location of a Safe Room
We recommend building a safe room in your basement; it's the best spot. And it doesn't have to be obvious. Our client's safe room is hidden behind unassuming wooden doors (closet doors) so the homeowners don't see it on a daily basis. You can also hide a safe room behind mirrors or bookcases.
If you don't have a basement, the safe room should be built within your home's interior on the first floor. You can also build an in-ground storm shelter in your backyard or elsewhere on the premises to which you have easy and quick access. Make sure the location you choose is not in a flood zone or storm surge zone.
Features of a Safe Room
Safe rooms should be stocked with emergency items, such as:
A first-aid kit
Essential medicines
Water and non-perishable food/snacks
Flashlights
Batteries
A battery-operated radio
Basic Tools
Blankets
Firearms
Gas masks
A portable toilet
Paper towels, napkins, tissue
You also need some type of communication equipment to contact the police. This can be achieved with a separate (land line) telephone connection, a charged cell phone or an amateur radio transceiver.
Construction of a Safe Room
The Federal Emergency Management Agency (FEMA) offers extensive construction tips for building a safe room within your home or small business. I'd like to share the basics, which are also highlighted in this Reader's Digest article:
Sizes of safe rooms can vary. It's recommended that you allow five square feet of space per person. The safe room our client has is 5'x5.'
Don't include windows. Note: Some safe room doors include

peephole

s.
Make sure the door swings inward. In a catastrophe with bulky debris surrounding damaged areas, you may not be able to open a door that swings outward.
The doors should be made of steel and include deadbolts for secure closing / locking from the interior.
The entire structure (walls, ceiling and door) – as well as the connections between all parts of the room – should be able to withstand winds of up to 250 mph in addition to weighty or sharp debris, such as thick tree limbs, 2x4s, steel car parts and glass.
The walls can either be concrete or heavy-duty metal, such as 14-gauge steel or DuPont™ KEVLAR® material.
One of the most important construction rules is that the safe room needs to be anchored securely (bolted down) to a concrete slab foundation so it won't overturn. The product we recently installed is rated for 100,000 pounds of uplift.
Separate the structure from your home's walls/framework. In the event that your home is totaled, your safe room will not be damaged.
If you never have to use your safe room, then you're lucky. Don't waste the space, though. It can double as a vault for valuables (jewelry, documents, equipment or precious irreplaceable items). There are other security measures you can implement to sure up your house's defences, such as installing a home camera system. Give me a call if I can help you with any of these points.