Guest blog post written by Dan Wanzung, licensed landscape architect and partner,

American Gardens, Inc.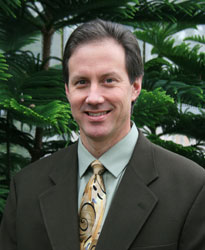 Fire evokes memories and emotions. Fire is an element that most all of us associate with our experiences in the outdoors. Campsite fires in Scouts or family camping trips, Tiki-torches and candles around the patio, even luminaries in winter. These are all effects created by the light and warmth of fire. It is the desire to recreate these past memories and the wish to create new memories that seem to be the impetus for incorporating fire in our outdoor living spaces. To do it successfully, there are a few questions you should answer for yourself.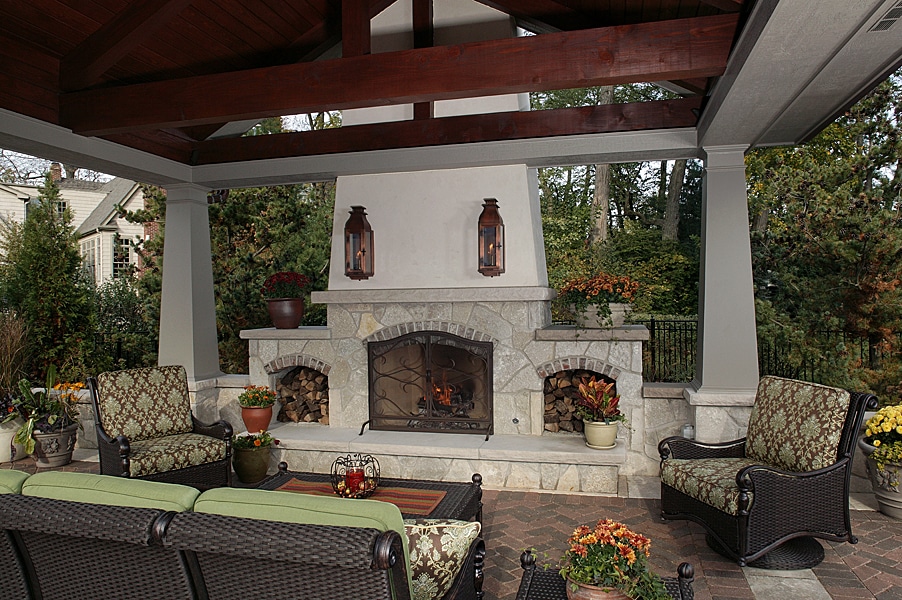 Pictured above: A custom-designed fireplace in an outdoor pavilion by American Gardens, Inc.
What type of fire feature do I want for my outdoor living space?
The first question you should ask is what type of fire feature you envision in your landscape. Again, in its simplest form, fire can be integrated with candles or Tiki-torches. A next step up from there is portable fire features. These can range from simple metal containers and fire features integrated into a tabletop to unique custom sculptural features.
The next class of fire features are those that are integrated into your landscape as a built-in feature. There is even a wider range of options with built-in fire features as they can range from a simple "pit" configuration to ones that are integrated with seat walls, fountains, etc.
I would classify fireplaces as the third group of fire features. These, too, can range from kit configurations to a true custom outdoor fireplace.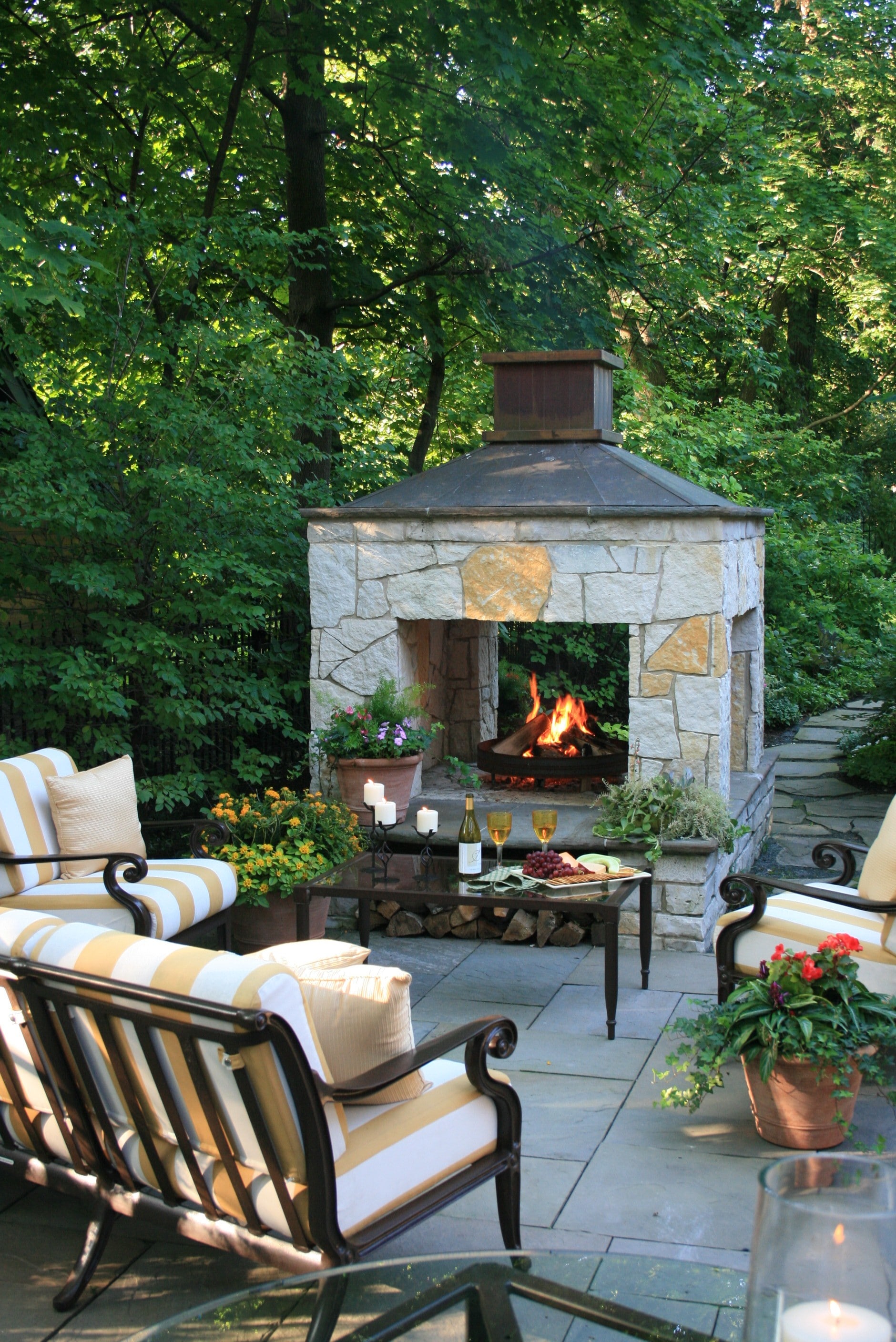 Pictured above: A custom-designed fireplace by American Gardens, Inc.
Where do I put my fire feature?
Once you have a good idea on the "what", the next decision is "where" within your landscape should it go? Consider some of the following thoughts. A well-designed landscape or garden is an extension of the interior of the home. There are different rooms for different activities. Some of the rooms function individually while others have less rigid boundaries and flow one into the other.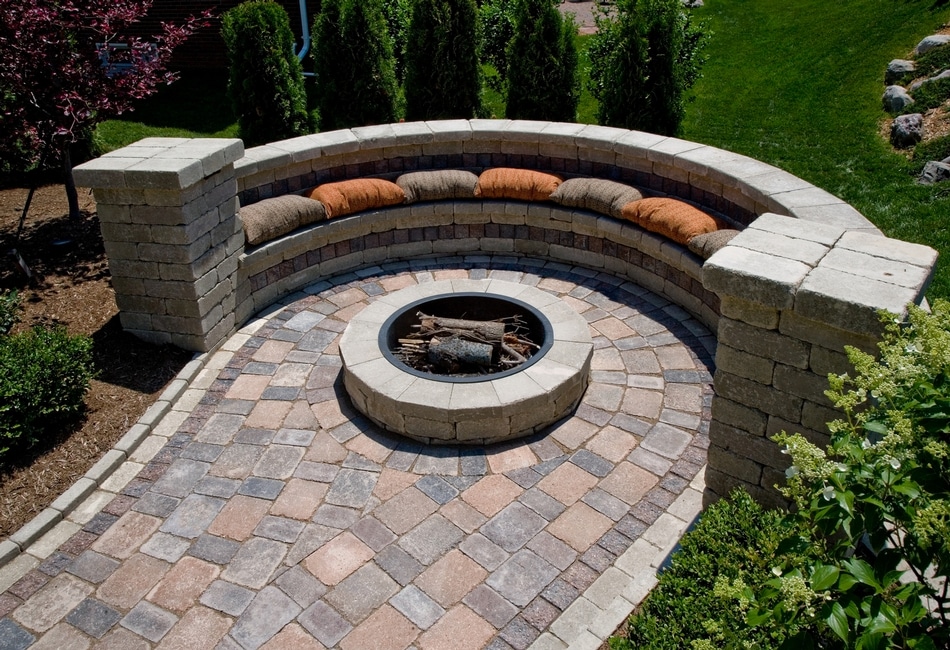 Pictured above: A fire pit with a seat wall from Unilock.
Do you want the fire feature to create a dominant focal point that anchors a space or a series of spaces? Perhaps you want the feature to create a more intimate setting? Maybe it is trying to achieve both? Other thoughts to consider would be traffic flow around the feature. For example: Do you want it to be multifunctional? Will it be used year-round? Are there village or local codes that dictate its placement? Personally, I feel that some of the more successful fire features that I have seen were pits that were set out in the yard among the landscaping. The location created a destination in the yard that the teenagers in the families really gravitated toward. The teenagers enjoy the feeling of their own space, but yet they aren't too far away for mom and dad to keep an eye on things.
The larger and more permanent the feature, the more design consideration and thought should go into your decisions. Obviously a portable unit is just that. It can be used in different locations without much effort. Besides being a significant financial investment, a fireplace is also a dominating design element. It should complement the home's architecture, be able to be viewed from inside and out, used in multiple seasons and really give you that "wow" factor. Also, be open in the "where" stage to reconsider the "what."  Often thorough evaluation of "where" leads you back to altering the "what" for various reasons (such as … you don't want the feature to dominate the space, building codes don't allow for good design placement, etc.). Be willing to keep an open mind!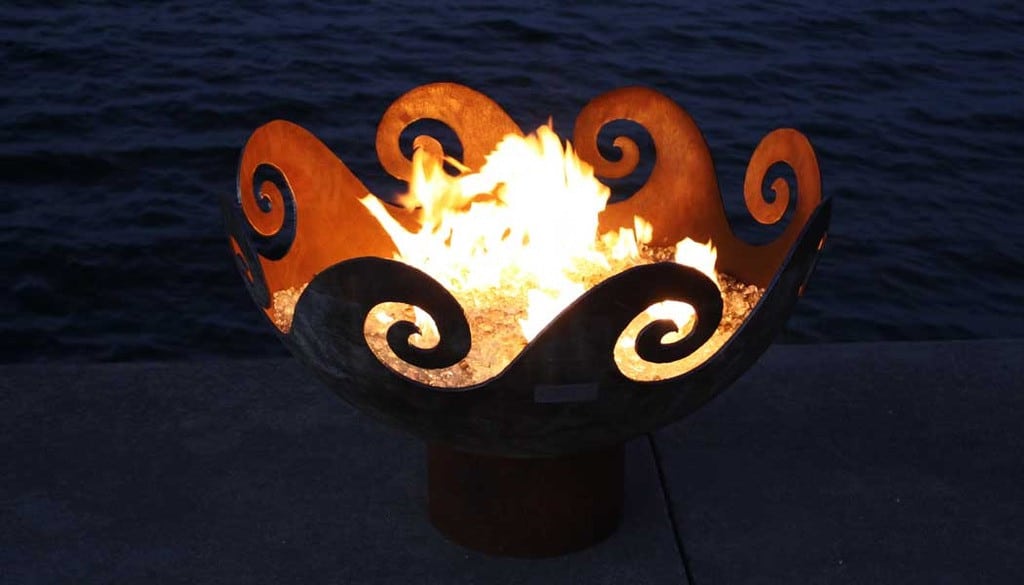 Pictured above: Waves o' Fire Sculptural Fire Bowl from John T. Unger Studio. 
How do I select the particular details of my fire feature?
The next question, "how", I would break down into two components: The type of fire and the construction of the fire feature.
Type of Fire
First, what type of fire are you looking for? Do you want the look and smell of a real wood fire? A traditional wood fire feature typically needs a bit more room as the fires tend to be larger. With wood fire, you really need to consider the element that comes with fire: smoke. Often local codes address this in where the fire feature is placed but remember — like they say about fences — good fire feature locations make good neighbors, too! Firewood storage should also be a consideration. If the fire feature is on a patio, make access to the wood convenient.
Perhaps you want the fire but not the cleanup and logistics of a wood fire. In that case, natural gas might be your choice. A consideration and cost for gas features is the running of the gas line per code and additional consideration for safety. It is advisable to have a shut-off near the feature, where the gas comes out of the house and one that is easily accessible on the interior of the house. That way, you don't have to worry about the potential for disaster when you are out of town.
There are different fire ring configurations for gas features so check out a few to see the flame pattern you prefer. The predominant styles are rings and stars. Gas fire features can be finished off with artificial logs to replicate a traditional fire, fire-resistant stone and/or recycled glass for a more contemporary look. As a note, we have not had any experience with liquid or gel fuels. There are some articles that describe some serious safety concerns with them so we do not recommend them to our clients.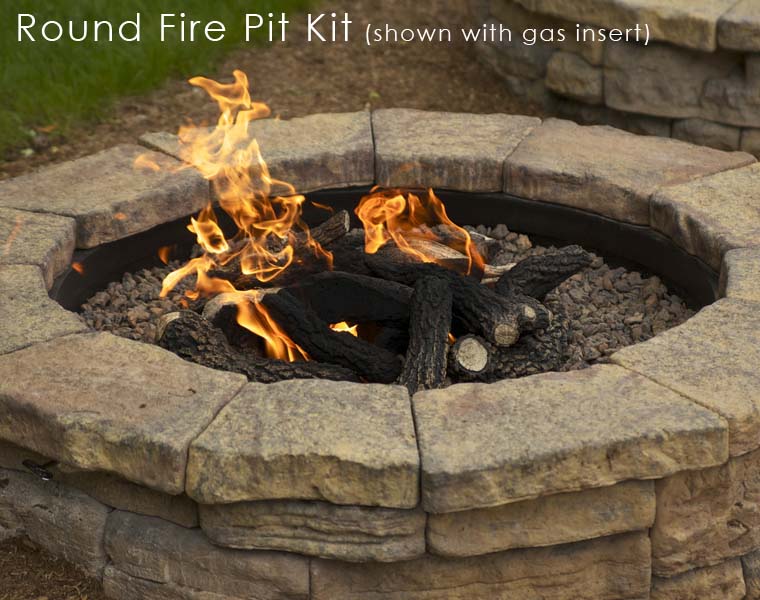 Pictured above: A round stand-alone gas fire pit from Rosetta Hardscapes.
Construction of the Fire Feature
The selection of the fire source then leads to the second phase of "how", the actual construction of the feature itself. There are a multitude of material options from pre-cast concrete units to natural masonry materials. A wood fire also tends to be larger and usually demands a steel liner or fire brick to insulate the fire from the surrounding construction material. If the construction materials absorb and trap moisture, the rapid heating of those elements can cause the materials to pop or even explode. Gas features can take on more numerous shapes and sizes as you can better control the flame.
Finally, as I mentioned before, if you are installing a significant feature like a fire place it is best to consult a landscape architect, architect or qualified builder to make sure that structural considerations and local codes are met as well as the aesthetic considerations.  The last thing you want is the Leaning Tower of Pisa in your backyard!
Like most things these days, the incorporation of a fire feature can be as easy or as involved as you want it to be. Fire can be a powerful element in your garden whether it is a portable pit or an awe-inspiring fireplace. In designing or accessorizing your outdoor space, take a little extra time and consider it!